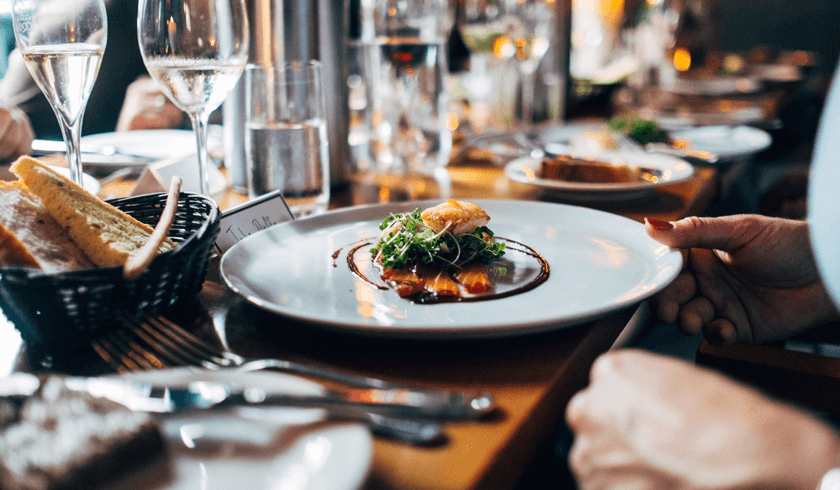 Epicure dining, upscale eateries, and comfortable yet luxurious bistros. Thailand's most popular holiday destination, Phuket, has blossomed into dining heaven, with talented chefs conjuring exciting culinary creations. After becoming a Gastronomy city, the list of best restaurants in Phuket is growing at a fast pace.

With all that in mind, here are our top picks for the five best restaurants in Phuket, spanning authentic Thai, Fusions, and international cuisines.
1. Blue Elephant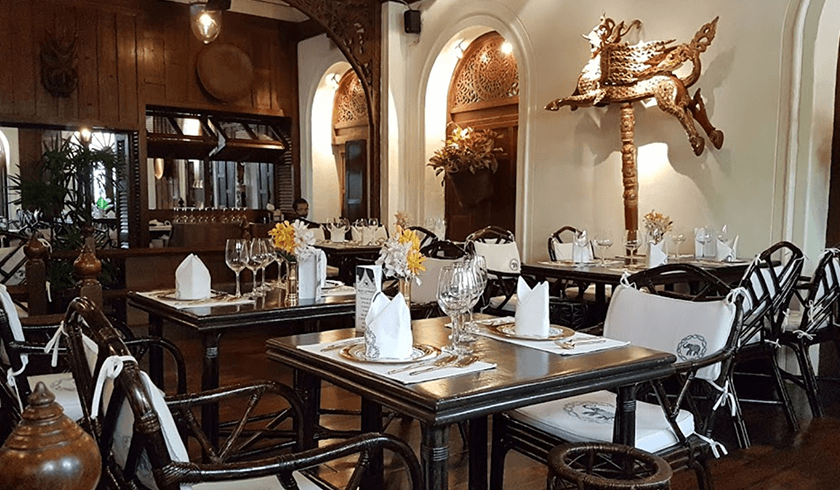 One of the best restaurants in Phuket, Blue Elephant, is tucked into the town's grand Phra Pitak Chinpracha Mansion. Blue Elephant combines the elegance of the Sino-Portuguese architecture setting with authentic Thai cuisine.

You will find Chef Khun Noroor Somany Steppe cooking up mouth-watering dishes that include duck with tamarind sauce, black crab curry with coconut milk, and lemongrass. Diners can opt for the chef's signature dishes as well. Interestingly, Blue Elephant is also a cooking school.
2. Mom Tri's Villa Royale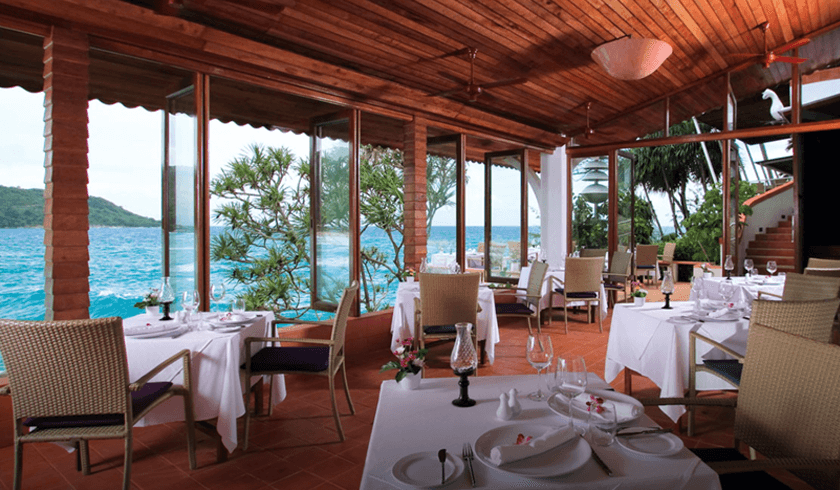 If you are up for an exotic location, setup, and outstanding food all packed in one, on the Kata Noi Beach, Mom Tri's Villa Royale offering a breathtaking view of the Andaman Sea, is all you need.

Walk down the dining section, and you are greeted with eclectic alcoves, beautiful artwork, and antiques. Their menu includes slow-cooked veal cheek dipped in red wine sauce with porcini mushrooms and roasted vegetables. Mom Tri's Villa Royale has everything you need to make an evening special.
3. La Gritta Italian Restaurant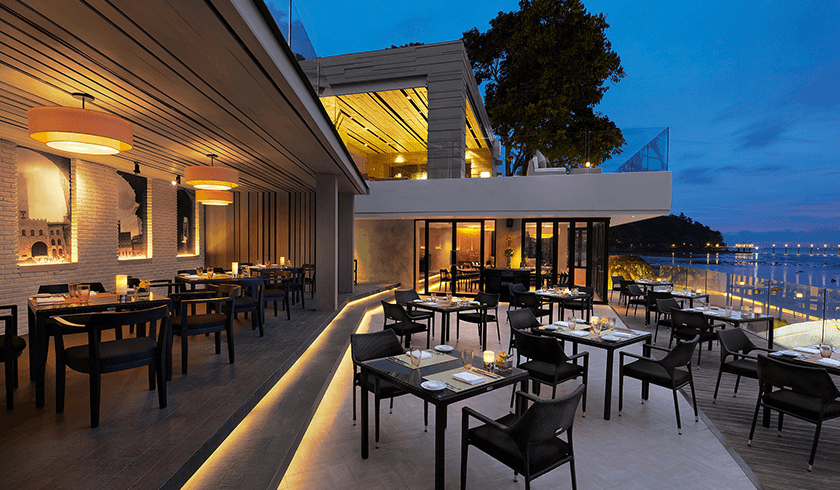 Located at the Amari Phuket, La Gritta offers superb contemporary presentations woven with lavish culinary fabric. Also, you get to choose from two exotic locations, namely La Gritta and La Gritta Terrace. These two areas have stunning views over Patong Bay, thus offering a unique experience of gourmet under the stars.

The menu at La Gritta consists of a delectable list of classic Italian dishes like bruschetta campana with local Phuket buffalo mozzarella and pesto. You can also opt for Osso Bucco for more hearty mains. The only non-Italian part of the menu is Australian tenderloin and lamb chops.
4. Acqua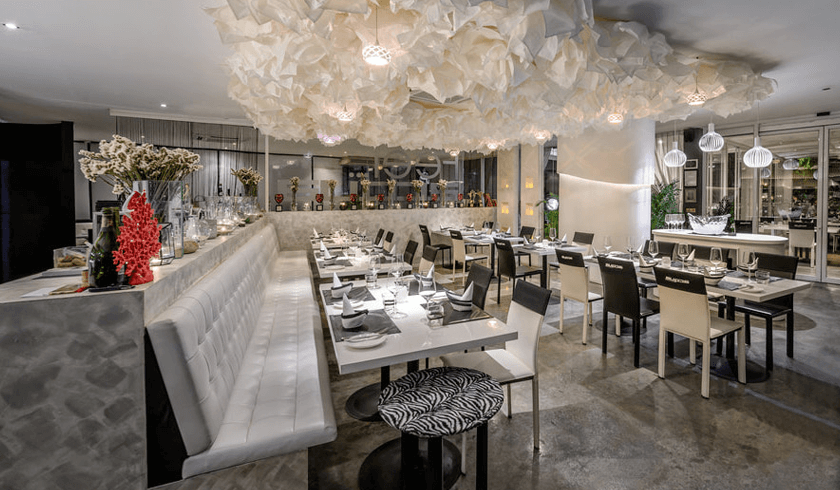 Acqua is a contemporary Italian restaurant that lies roughly a kilometer north of Patong on Beach Road. Featuring clean lines, futuristic design, and beautiful views over the Andaman makes Acqua one of the best restaurants in Phuket in terms of design, architecture, and eye-soothing views.

You can try their yellowfin tuna and swordfish carpaccio with cherry tomatoes, matured in extra-virgin olive oil for starters. And for the mains, you can opt for a grilled tuna fillet on eggplants and fresh cherry tomatoes. Acqua's capers and oregano sauce is a must-try.
5. Kan Eang @Pier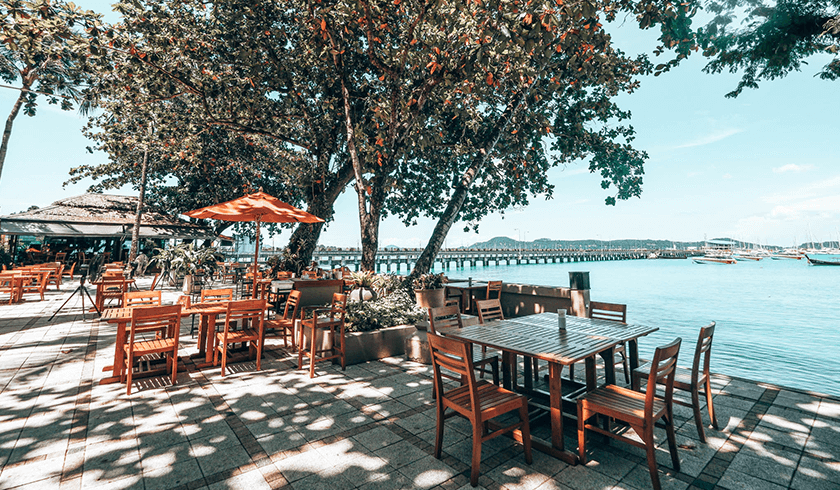 A prolific restaurant specializing in seafood and local delicacies, Kan Eang @Pier is located on the shore of Chalong Bay. It has exotic indoor and outdoor dining areas, all combined with views of the marina.

The cuisine at Kan Eang @Pier is classic Chinese combined with Thai seafood. While deep-fried freshwater weed with shrimp in batter sounds weird it surprisingly tastes great. Their signature Phuket lobster in butter sets a high standard of freshness factor.
Final Thoughts

Phuket has something for everyone, more so when it comes to its highly versatile restaurants. The restaurants mentioned above are some of the best in Phuket and can assure you of a great gastronomic experience. 

All of SKHAI's properties are located in prime areas surrounded by lots of great restaurants, beaches, and entertainment options to make your living experience incredible. If you are looking at making a property investment in Phuket contact our team to get the best deals at the most remarkable locations.