The popular island of Phuket has much more to explore besides its breathtaking beaches. If you have been considering Phuket pool villa investment opportunities and are exploring the interesting aspects of the island, read on. To get a feel of authentic Thai culture while you explore the local street food and shopping, you should visit the famous night markets of Phuket. These night markets allow you to save time lounging on a breezy beach during the daytime instead of shopping in a crowded marketplace in the hot sun. You get to shop for the best that the island has to offer and enjoy local cuisine in a cooler environment at night. Phuket's vibrant night markets are lively with street performances and music offering several entertainment options to the visitors.

Here is a list of five of our favorite night markets in Phuket:
1. Chillva Night Market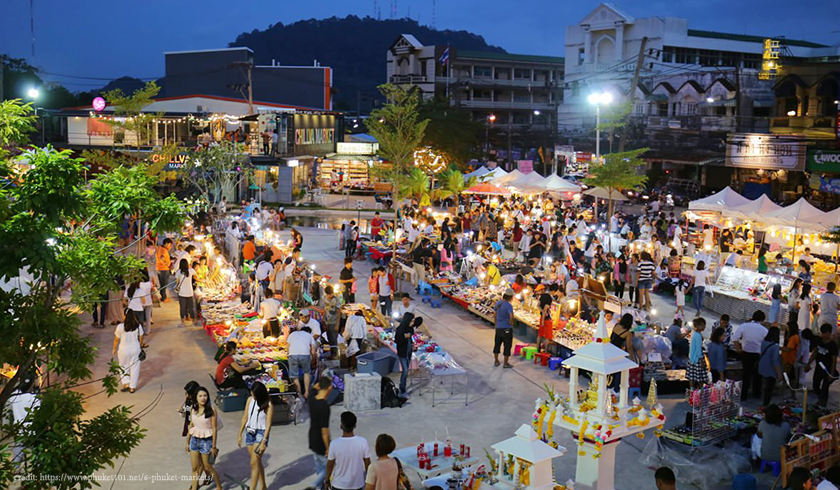 One of the most happening night markets in Phuket, Chillva has a hippy vibe to it. A haven for fashion lovers, there are plenty of stores selling clothes, accessories, and shoes. For those interested this market is also known for selling second-hand goods at slashed rates. Items sold here are mostly original and local creations and not many fake brands are seen here.
It is worth trying some local food here. The market is popular for its sweet and salty snacks that are quite colorful. Small bars and restaurants built inside containers are interestingly located on the two sides of Chillva Market.

Chillva Night Market is open from Thursday to Saturday at Yaowarat Road, Phuket Town.
2. Phuket Weekend Market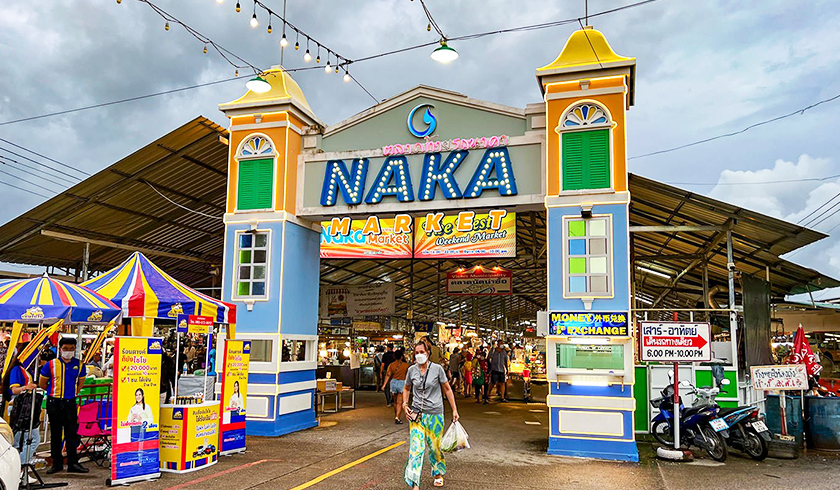 Selling an assortment of curios, souvenirs, second-hand goods, some amazing local food, and also live animals, Phuket Weekend Market, just outside Phuket Town, is also known as Naka Market is the single biggest night market in Phuket. This is a great place for people who love shopping. Many fake branded fashion items are sold at really low prices here. However, there are some local designers selling great items as well.

You can also indulge in some delicious food here such as hot grilled seafood, a variety of local sweets, and desserts.

Phuket Weekend Market is open from 4 to 9 pm on Saturday and Sunday at Thalang Road, Phuket Town.
3. Malin Plaza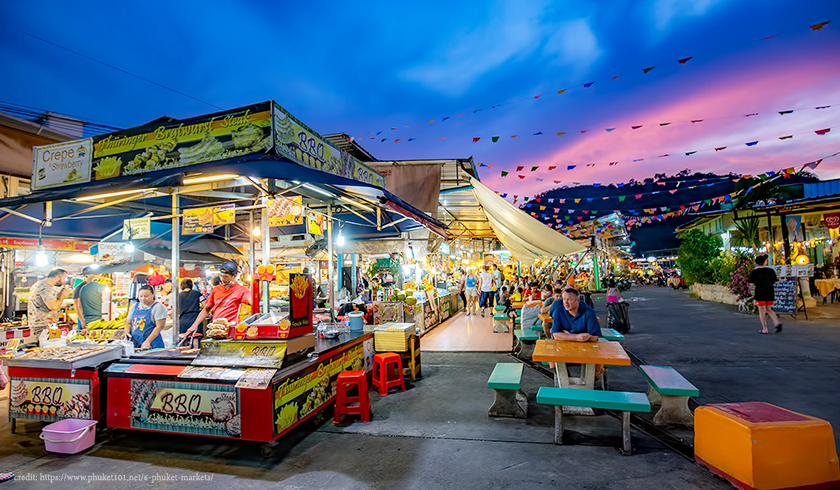 Offering the perfect balance of fun, shopping, delicious food, and drinks amidst a casual tropical atmosphere, the Malin Plaza is a trendy night market on the southern end of Patong Beach. You can expect to find good deals on T-shirts, denim, beachwear, bags, luggage, spa products, mobile phone accessories, and a good range of trinkets and souvenirs. Some of the shirt designs found here are unique and different from the other markets. It also has a tailor shop that most night markets don't have. Explore a huge variety of local foods, bars, and cafes here.

You can find authentic local food experiences here such as buying fresh seafood from one of the market vendors and getting cooked right there in front of you.

Malin Plaza is open daily from 11 am to midnight at Patong Beach.
4. OTOP Market
OTOP Market was initially meant to promote the handicrafts and original products of each province of Thailand. The full form of OTOP is 'One Tambon One Product' which means 'One District One Product.' Items such as local handicrafts, cotton products, silk garments, Thai fashion, local pottery, household items, and food from each province were to be promoted here. However, this unique idea did not survive too long as tourists were keener on buying copies of brands selling designer bags, shoes, clothes, and other fashion accessories. Nowadays, you will find more of these fake items and a huge array of souvenirs at the OTOP market.

The market houses a small street food area that is quite famous. Rows of food stalls with tiny seating arrangements sell cheap yet delicious Thai food like the popular Phad Thai, fried chicken, and a variety of grilled seafood. Small beer bars are lined up at the back of the market. Some of the popular ones include Cockatoo Bar, Bombay Blue, and Bourbon Bar, among others.
OTOP Market is open daily from 5 pm to midnight at Patong Beach.
5. Phuket Walking Street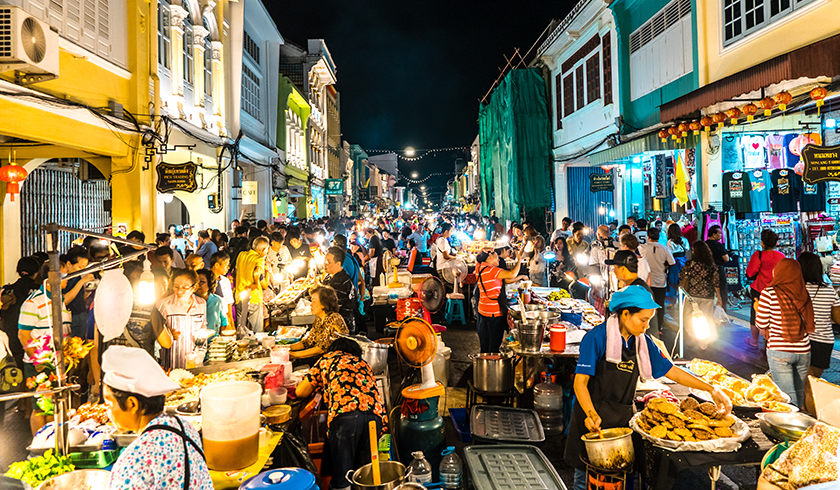 Phuket Walking Street is a night market in Phuket Old Town that is open every Sunday evening. It is known as Lardyai which means 'big market.' You get to explore some authentic southern Thai culinary delicacies. It also sells local handicrafts and has some gift stalls. This is a great place for families with children as there are many toy stalls and entertaining performances.

The highlight of Phuket Walking Street is its main entrance on Thalang Road which features a beautiful Chinese-style wooden gate. It has a sign reading Lardyai in 3 languages, namely, Thai, English, and Chinese. This gate serves as a brilliant backdrop for clicking photographs. House facades with colorful Sino-Portuguese architecture are bathed in color-changing lights which is a beautiful sight to behold.

This market majorly sells souvenirs and food. Popular food items enjoyed here are barbecued squid, pork, and chicken, and so are a variety of Thai sweets, fruits, and ice creams.

Phuket Walking Street is open on Sundays from 4 pm to 10 pm at Thalang Road, Phuket Town.
In Conclusion
Phuket Night Markets are a treat to the senses, with a profusion of colors, aromas, and lively performances lending a festive air to this vibrant island. And above all, you also get to grab some great bargains! 

This island's popularity comes from its lively spirit which is reflected in its many facets. From great shopping, mouth-watering street food, and colorful entertainment, to world-class amenities, Phuket attracts several people from across the world to make it their home. If you are interested in investing in luxury pool villas in Phuket, contact our team to learn about our affordable pool villas in Phuket.