There's nothing like a lazy laidback weekend on a beach destination especially when you're living at one of the luxury pool villas in Phuket. Indulging in a sumptuous brunch becomes the order of the day at such times. Phuket has some of the most iconic places that host splendid spreads of world cuisine at sensational locations. You can choose to enjoy trays full of fresh oysters, seafood on ice, grilled lobster, or even a healthy vegan beef burger with live jazz at a striking oceanfront venue.

Here's a list we curated of some of the best brunch places in Phuket:
Oriental Spoon Grill & Bar at Twinpalms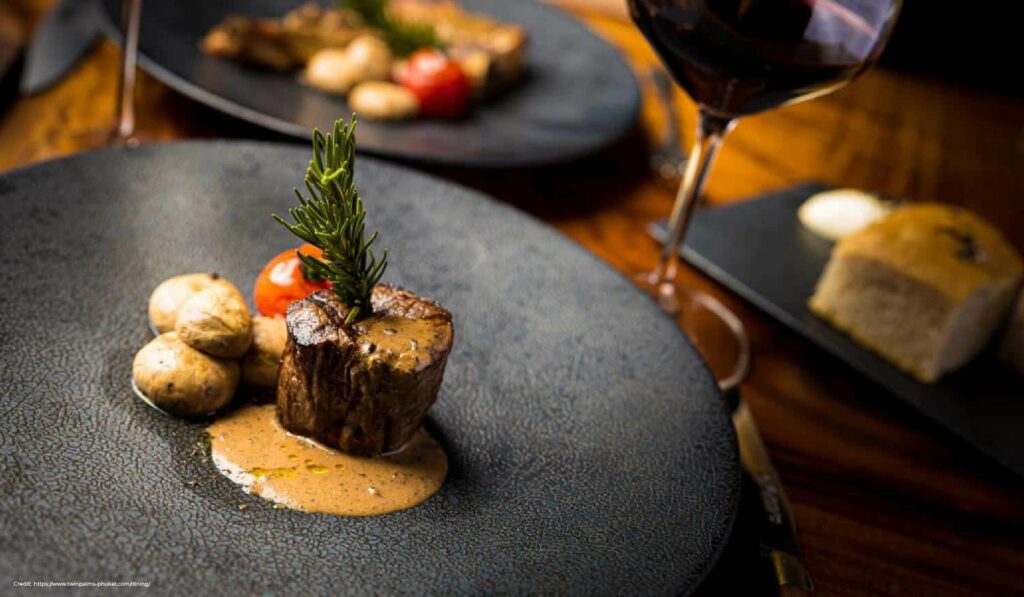 Oriental Spoon Grill & Bar at Twinpalms Phuket, serves its delectable Sunday brunch from 12 pm to 3 pm, which includes Thai, Oriental, and Western dishes. The buffet is a visual treat that includes oysters, lobsters, Alaskan King Crab, roasted meat with platters of sushi and sashimi along with the French cheeses, sinful desserts, a fruit table with a chocolate fountain.

The theme for this buffet is different every Sunday. It could be a special cheese promotion one week or foie grass the next. You can expect the freshest catch and produce flown from different parts of the world on your plate. Pair them with a Moet & Chandon champagne or a fine wine from the well-stocked cellar.
Blue Mango Bar & Grill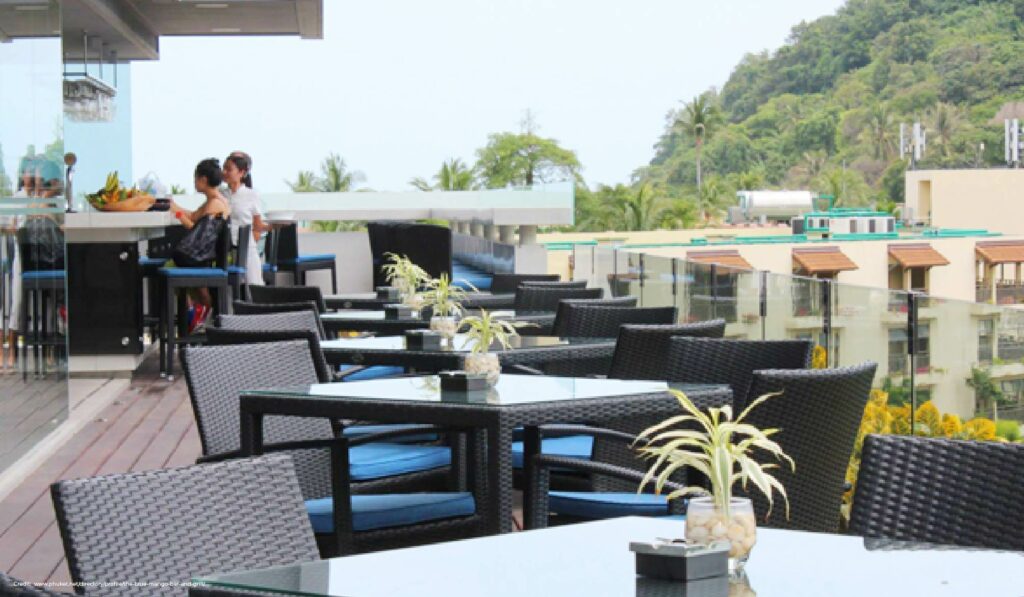 One of the best restaurants in Patong, the Blue Mango Bar and Grill is a part of the opulent Absolute Twin Sands Resort & Spa. Specializing in Italian-Mediterranean and Thai cuisines, the restaurant uses only the freshest local produce. They serve delicious pancakes, waffles, eggs Florentine and traditional full English breakfast, and more. Wash it down with some great coffee or a cocktail while enjoying the spectacular views of the bay from the restaurant's terrace.
Seafood at Trisara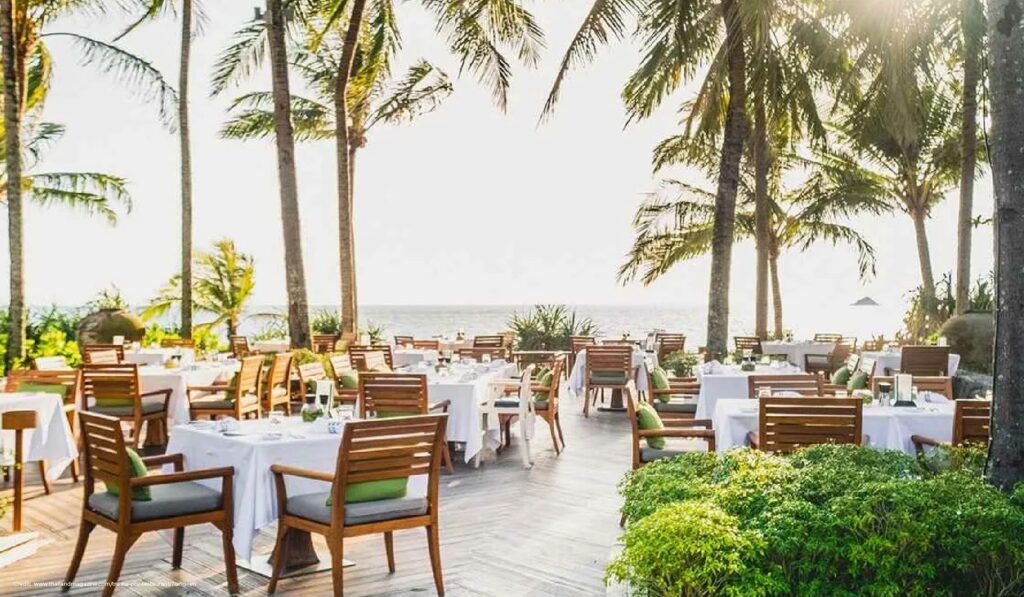 The stylish Trisara resort is known to serve one of the most famous brunches in Phuket. Its Sunday Jazz Brunch is hugely popular for its palatial spread that showcases international food infused with local specialties. The live jazz and breathtaking ocean views add to the experience of savoring fresh seafood, exotic tapas, and decadent desserts. Take your pick from live food stations serving sizzling barbeque and grills or some cocktails and fine wine. Trisara offers a relaxed family time with fun activities and games for children at Trisara Kid's Club.
Pure Vegan Heaven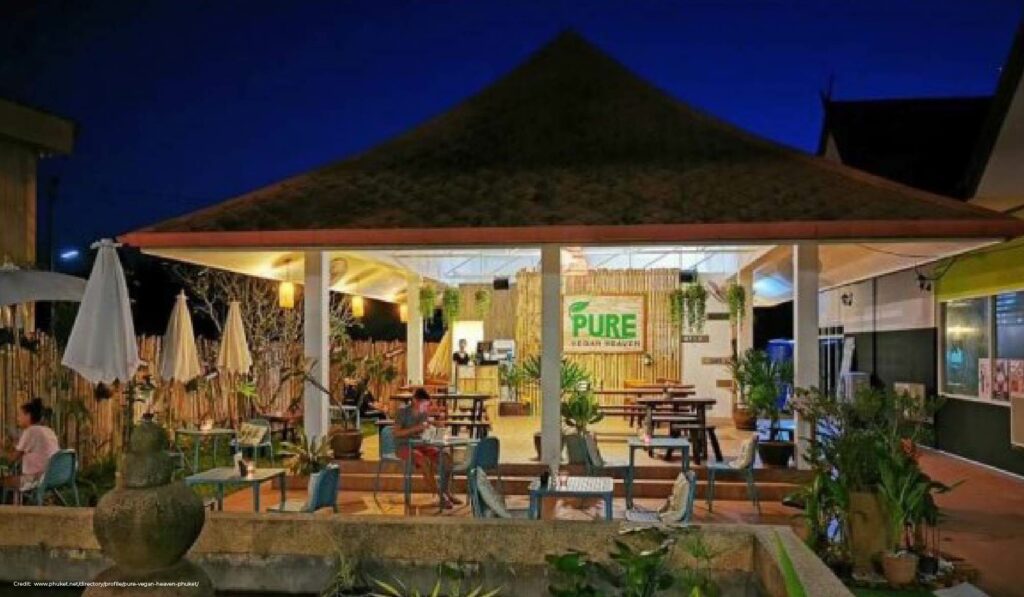 If you are looking for a healthy and delicious breakfast, Pure Organic Heaven will not disappoint you. A casual little shop specializing in health food, it is located in Chalong. The menu includes detoxing juices, fruit smoothies, coffee, quinoa bowls, and an organic beef burger. Its sunny patio is a great place to enjoy a lazy long brunch.
Banyan Tree Phuket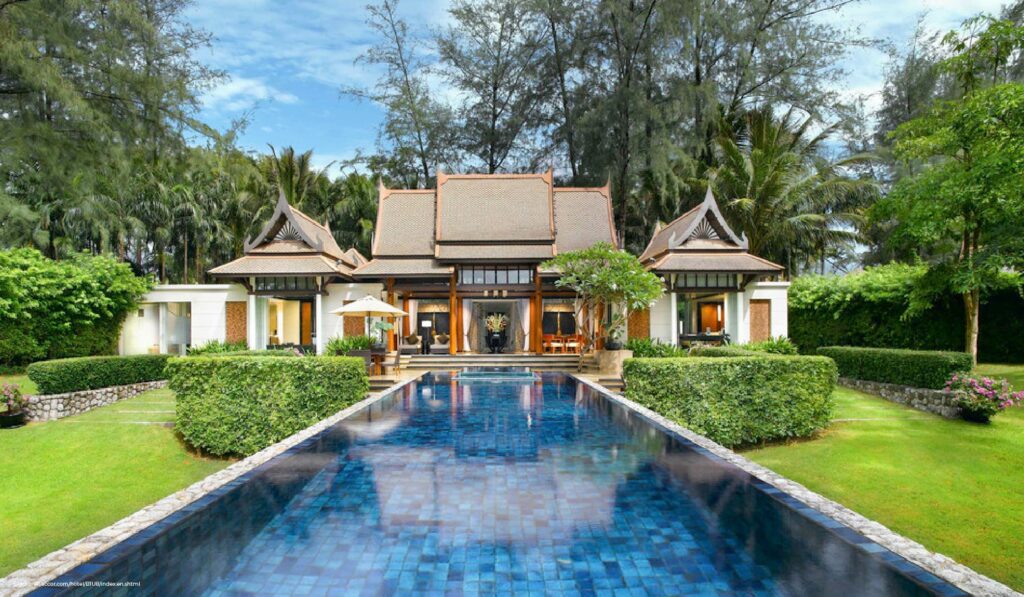 Seafood & Jazz Sunday Brunch at Banyan Tree Phuket is a high-end weekly affair for connoisseurs of fine food. Located in Bangtao Beach's Laguna Phuket Resort Complex, at the Watercourt, an elegant glass-walled, open-sided restaurant overlooking a lagoon, the panoramic views and the Jazz music make a relaxing ambiance. Their 'Go Live' Seafood Sunday Brunch hosted every first Sunday of the month is ideal for families. The menu comprises Japanese starters, Asian wok, Western grill teasers and fresh seafood, and some out-of-this-world lobster dishes. The grilling station on the terrace tantalizes you with epic barbecued meats, crab, and whole fish grilled to perfection.

After indulging in the heavenly brunch options, head for a complimentary head and shoulder massage, lagoon activities, and kids' zone that ensure that you will keep coming back for more.
Boonrat Dimsum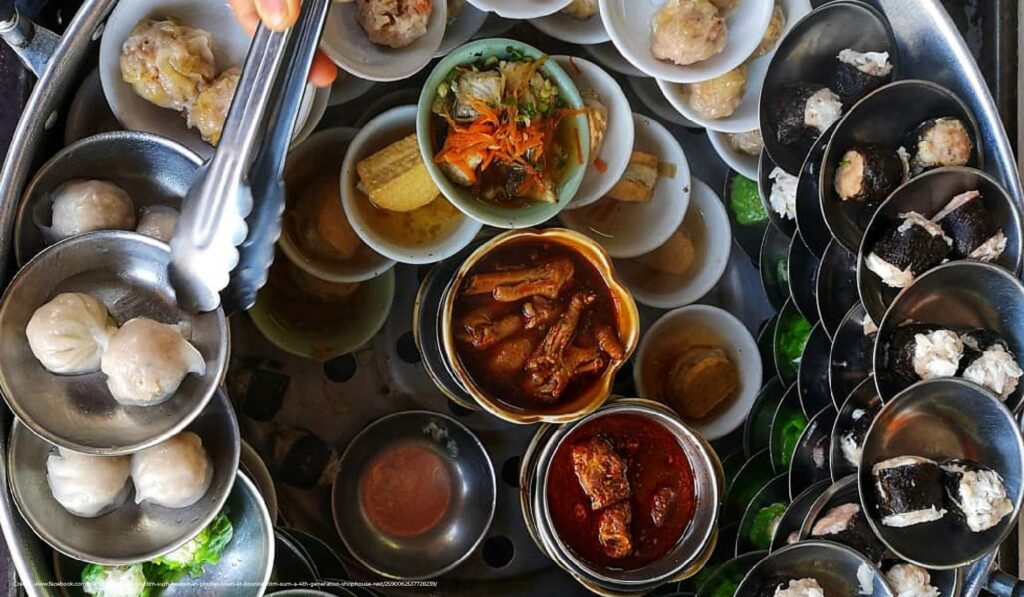 If you're looking forward to trying some local breakfast, give Boonrat Dim Sum a try. Starting early at 6 am, this place is famous with people thronging in for their mouth-watering dim sum. It boasts of an expansive menu serving a variety of dumplings and stuffed buns. Make sure you arrive early, as the most delicious ones are said to quickly disappear.
The Slate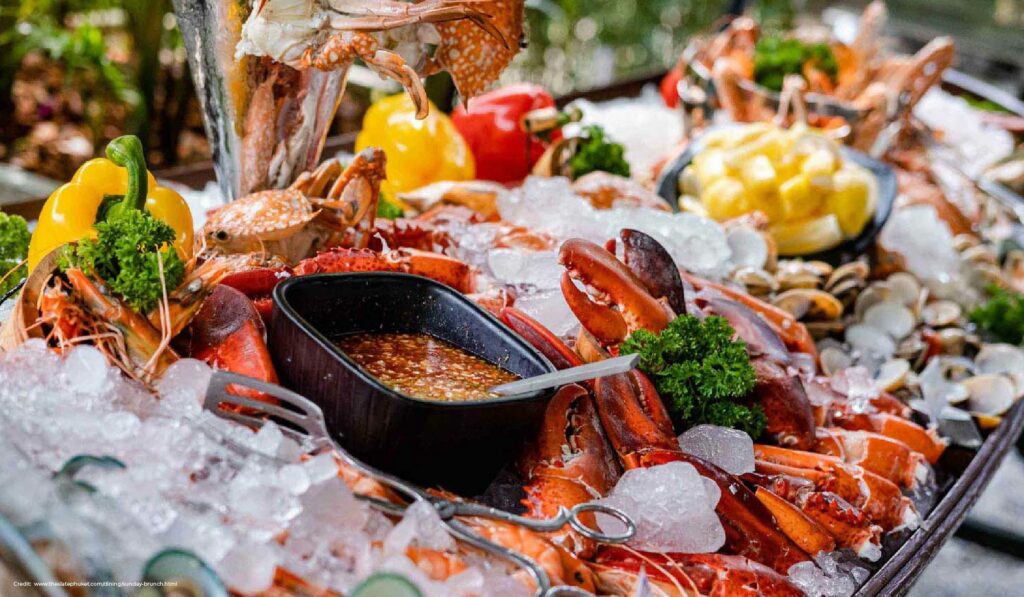 On the first Sunday of each month, The Slate offers various food stations serving an array of seafood, sushi, grilled meats, with delicious Thai and Indian dishes. Starting at noon the live music and free-flowing wine and champagne set the mood for a relaxing time. The Slate was designed by Bill Bensley, a world-famous architect. It is known for its interesting décor, inspired by Phuket's tin mining past with gigantic sculptures made from vintage salvaged machinery.

Served at the 'Rivet' restaurant and poolside at Underground Café, the brunch is an exotic spread offering freshly sliced sashimi, Maine lobsters, and imported oysters, cuts straight off the hot charcoal grill, delicious Thai delicacies, French cheeses, and divine desserts.

You also get the option of spending the whole day here with a Lazy Brunch option, that includes a massage at the spa and brunch for a set price.
Vijitt Resort's Sunday Brunch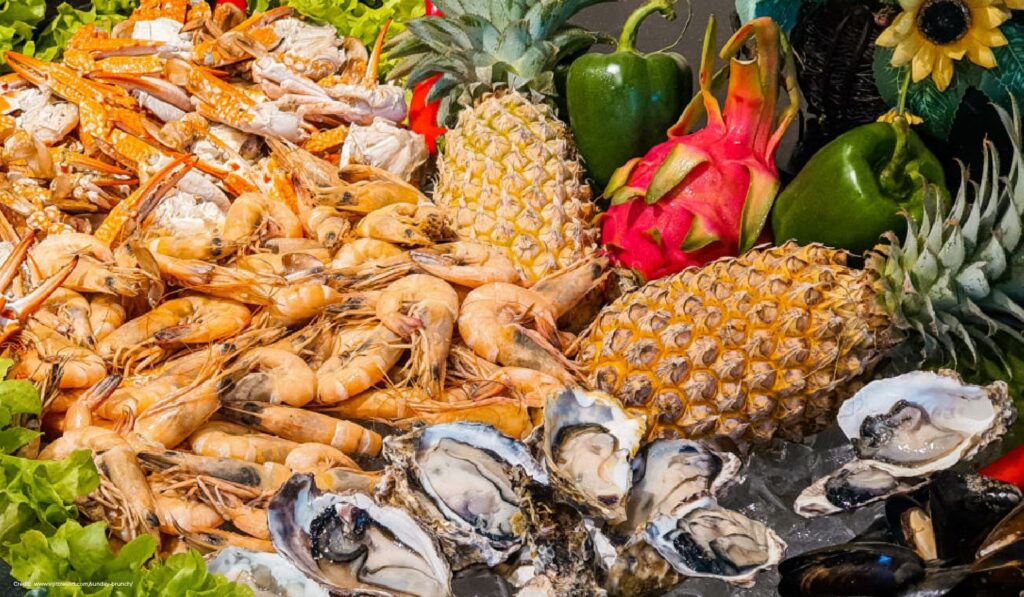 Set on expansive grounds with sea views, once an orchard, the Sunday Brunch at Vijitt serves a wide selection of delicious brunch options such as sushi, seafood, BBQ, food stations, Western and Thai dishes, and homemade desserts. With live music and complimentary use of its 40 meters long infinity-edged swimming pool, this is the best place to enjoy some tropical sunshine. It is a kid's friendly place with a menu having kids' choices and a kids club that promises to keep them entertained.
Mangosteen Resort & Spa
The Mangosteen Resort & Spa sits on top of a hill overlooking Phuket's eastern coast. It has received awards for its stylish elegance and fine dining experiences. It is popular with local families for their Sunday brunches. Their menu rotates each week to include a unique Belgium-inspired brunch with a French quality and German quantity.

They also host seafood-themed Sunday brunches that serve exquisite dishes such as red snapper with tarragon sauce, roasted rock lobster with basil, crawfish with garlic butter, and a piquant and popular tom yam seafood. Also available on the menu are lamb and steaks from Australia.
The Surin Phuket Champagne Brunch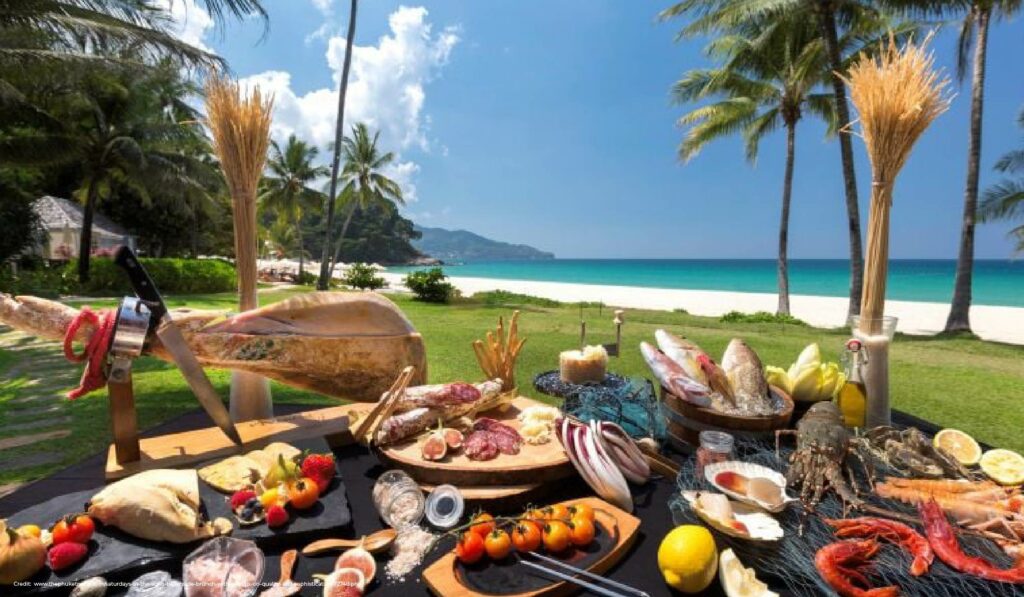 The last Saturday of each month sees The Surin Phuket serve a gourmet brunch that features exclusive international delicacies with free-flowing Louis Roederer Champagne, against the backdrop of a sensational beachside setting. From French oysters, Atlantic & rock lobster, Alaskan king crab, Foie Gras, Hokkaido scallops, Pata Negra ham, Sashimi, prime Black Angus beef tenderloin, grilled Atlantic lobster to made to order signature dishes, the menu is exhaustingly delicious.

The brunch guests also get complimentary access to the beach along with sunbeds to lounge on. The Surin library engages children aged 4 and above with some fun activities.
Final Thoughts
With so much to relish and explore in Phuket, while living in one of the affordable pool villas in Phuket why would one bother with cooking breakfast at all on a sunny laidback weekend? Phuket is like a pandora box as far as its food scene is concerned with delightful gastronomic surprises in store at every nook and corner of this gorgeous island. 

Plenty of visitors have fallen in love with Phuket for its vivacity and rich multi-cultural milieu, deciding to make it their home. If you are interested in Phuket pool villa investment opportunities, connect with our team at SKHAI to know about the best deals on the island at the most beautiful locations surrounded by exciting dining and entertainment options.