The stunning backdrop of Koh Samui with its never-ending pristine beaches, fringed with palms, and abundant with greenery is a perfect venue for spectacular beach clubs. Some of the best pool villas in Koh Samui are conveniently close to many of these incredible recreation hubs. And the island will not disappoint you with its array of impressive beach clubs. While some have a distinctly Mediterranean or elegant vibe to them, the others have a rustic ambiance.

Relax with your favorite drink at one of these beach clubs, enjoy the spread of the finest world cuisine, and groove to the lively music, enjoying the best of what this gorgeous island has to offer.

Here's a list of 5 best beach clubs in Koh Samui that we have curated for you:
1. Seen Beach Club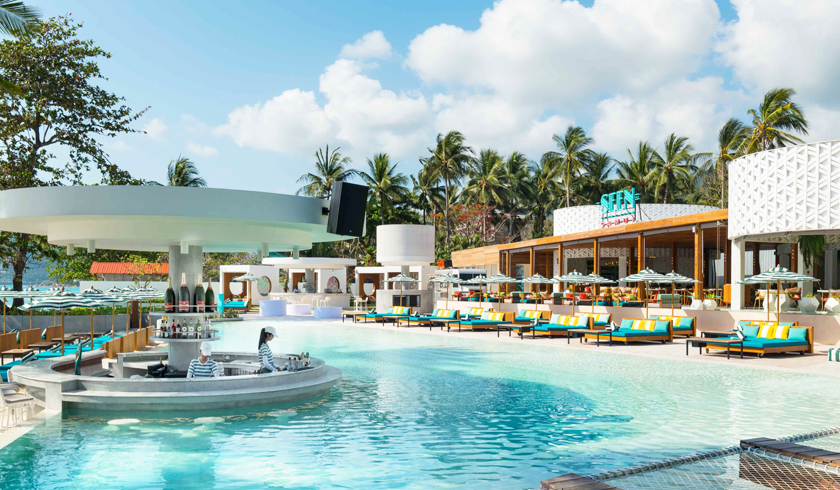 Seen Beach Club is a stylish, retro-themed venue that is inspired by the savvy 1950s. Located on the popular Chaweng Beach this is one of Samui's best beachfront clubs with its splendid offering of international cuisine, colorful ambiance, swim-up cocktail bar, and live DJ. The best part of this club is its infinity pool that stretches out right onto the Chaweng beach.

The Saturday Sin@SEEN pool parties and Sunday family-style brunches here are extremely popular. Its extensive menu offers a variety of dishes such as sushi, chilled oysters, pizza, and a range of champagnes, spirits, wines, and cocktails.
2. Beach Republic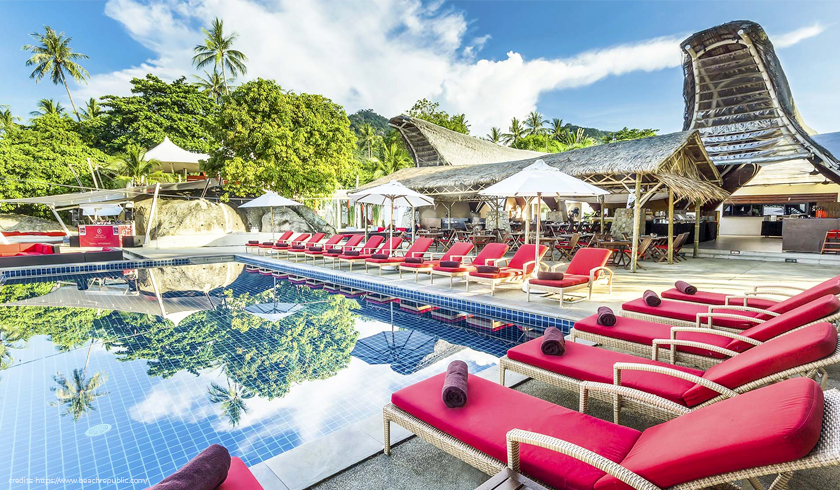 The Beach Republic is one of the most exquisite beachfront venues located towards the north of Lamai. Blending contemporary and Mediterranean beach lifestyle this beach club called the Ocean Club and Bar which is a part of the luxurious resort opens up to great views of the bay. With infinity pools equipped with sunbeds and private cabanas facing the sea, scrumptious Sunday brunch sessions, and throbbing live DJs this delightful venue has a lot to offer.

It has two restaurants offering Mediterranean and Thai cuisines. The bar menu boasts of a vast selection of spirits, cocktails, and wines and for those who enjoy a smoke with some whiskey, there is Whisgars Cigars and Whiskey Lounge.
3. Nikki Beach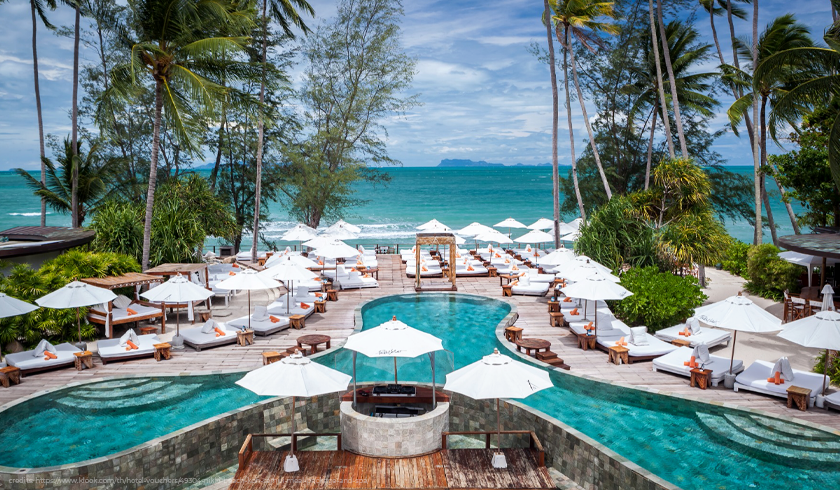 Nikki Beach calls itself 'the sexiest place on earth,' and rightfully so! Its lagoon-shaped pool overlooks the panoramic Lipa Noi Beach on the west coast of Samui. This modern beach club brings you a huge spread of buffets, beach barbecues, intriguing live performances, and film screenings. The beach club hosts regular events that range from disco to Latin-themed and more. They host some of the best brunches on the island. Their mesmerizing beachfront location is best enjoyed with their delicious cocktails.
4. Ark Bar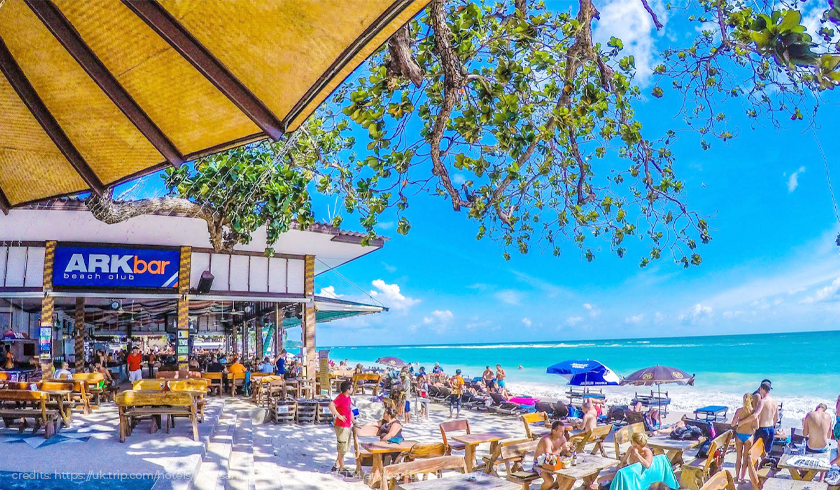 Ark Bar at Ark Bar Beach Resort in Chaweng is the place to be if you prefer an upbeat party vibe. Hosting international DJs every day of the week from 2 pm at its Party Pool and later on the beach until 2 am, Ark beach club has an exhaustive menu serving Thai and international food and more than 60 varieties of cocktails. The property stretches out on an impressive 150-meter-wide beachfront location that is famous for its lively beach parties, pulsating live DJ music, and fireworks.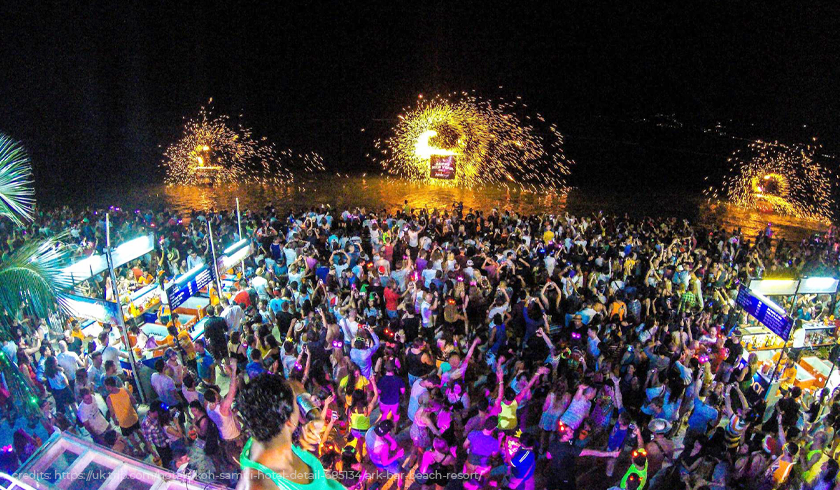 5. Elephant Beach Club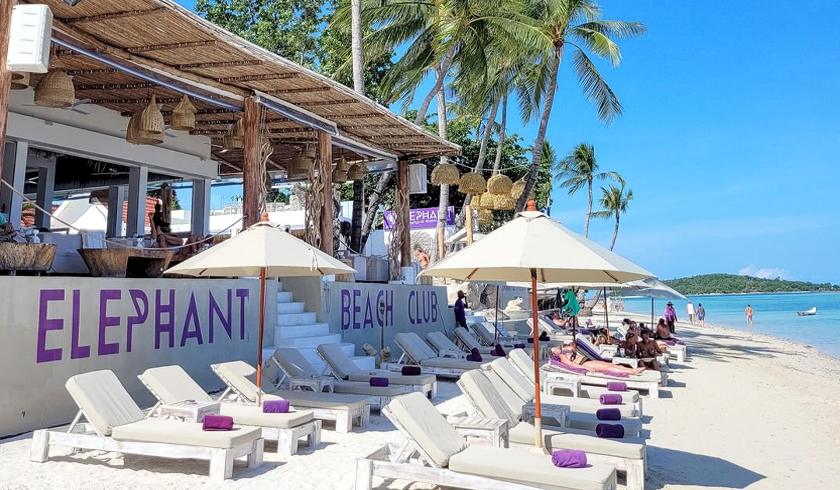 Right next to Ark Bar is the popular Elephant beach club with a friendly free-form pool. They provide sunbeds by the pool as well as on the Chaweng beach. It is highly popular with fun-loving crowds for its lively playlist of hip-hop and RnB tunes and awesome pool and beach parties. Offering a full menu that ranges from juicy burgers to popular Thai dishes, their classic to house specialty cocktails are a special highlight. On some days you might be lucky enough to witness an acrobat act or a fire show.

In Conclusion

Koh Samui is fast assuming the position of one the most thriving destination for wholesome recreation and fine living in Thailand. With myriad options of fantastic beach clubs, amazing restaurants, and fabulous tropical settings, the island has some of the best offerings for a modern and relaxing lifestyle.

Only 800m from the gorgeous Chaweng Noi Beach and also close to the bustling Chaweng Beach where most of these popular beach clubs are located, is our latest project, the exclusive Sunrise Park that promises a superb location with lush surrounding, finest facilities, unlimited entertainment, and a remarkable living close to the beach.

If you are interested in pool villa property investment in Koh Samui, please contact our team at SKHAI to avail some of the best deals on Koh Samui pool villa real estate and other popular beach locations in Thailand.