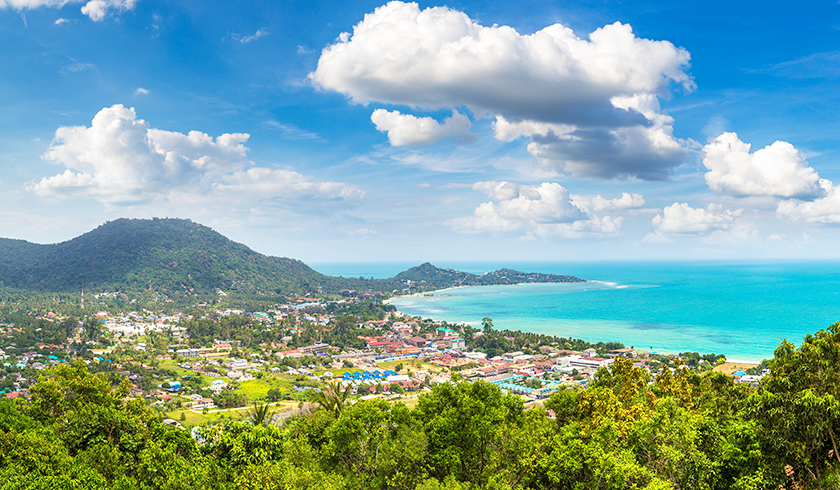 Koh Samui, the second-largest island in Thailand with numerous beautiful beaches, temples, and cultural attractions to explore. From sea fishing to going on adrenaline-fueled ATV tours through jungles to island-hopping across the Ang Thong Marine National Park, there is so much to do on this breathtakingly beauteous island. Many expats fall in love with this island for its numerous offerings and end up exploring Koh Samui pool villa real estate to buy a second home there.

Samui has a lot of noteworthy places that are easily accessible and can be visited in a day. Here are our top recommendations for the best day trips from Koh Samui:
1. Visit the Ang Thong Marine Park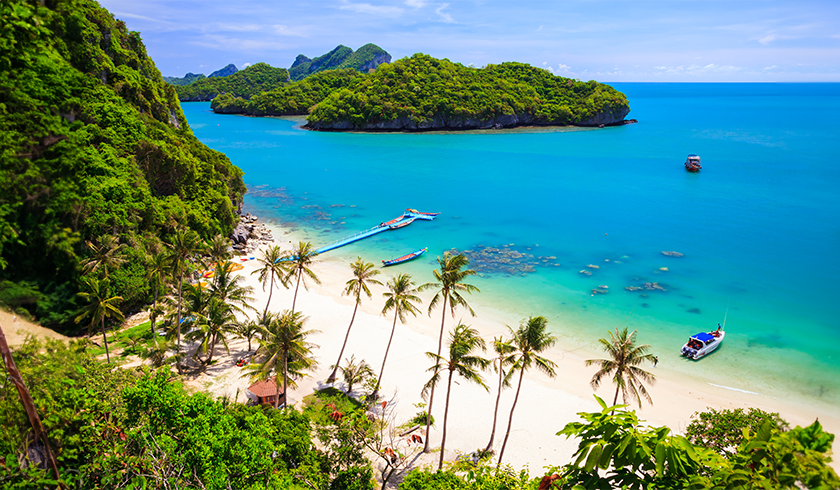 The Ang Thong Marine Park is a stunning archipelago consisting of 42 islands situated along the Gulf of Thailand. They were prominently featured in Alex Garland's famous novel, "The Beach."

These islands have a spectacular landscape with white sand beaches, colossal waterfalls, towering limestone peaks, dense tropical jungles, and plenty of other beautiful scenic spots.

You can take a boat trip to Ang Thong from Koh Samui. You will first board a motor-operated yacht to the gorgeous island of Koh Wua Talap stopping at the Mae Koh Island, which harbors an inland saltwater lagoon known as the Emerald Lake (Thale Nai). And while returning to Koh Samui, you could get to enjoy a mesmerizing sunset on the horizon. If you're lucky you might spot some whales and dolphins along the way.
2. Embark on a 4WD Wild Jungle Safari Tour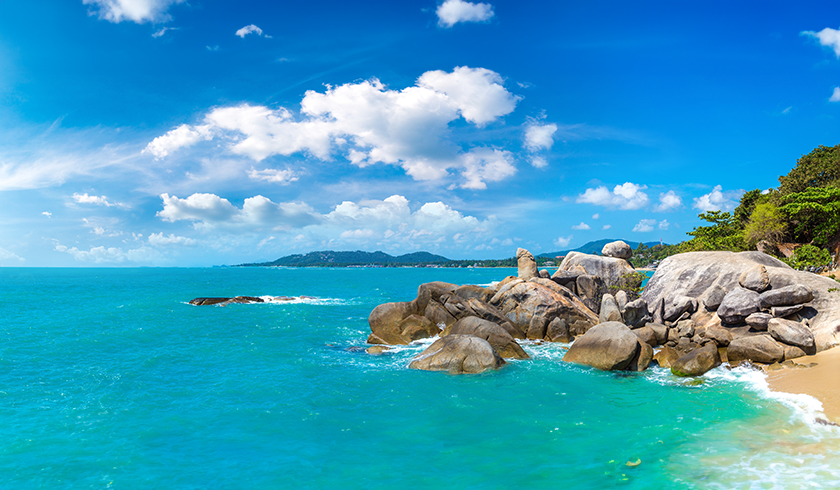 This adventurous tour takes you on a safari through the thick jungles and mountains of the island in a battered ex-military jeep. You will also get to visit the famous Grandmother and Grandfather rocks, board a couple of zip cable lines, and swim in a natural pool near the island's biggest waterfall. Some of Koh Samui's top attractions, such as Buddha's Magic Garden and the Big Buddha are the best highlights of this tour.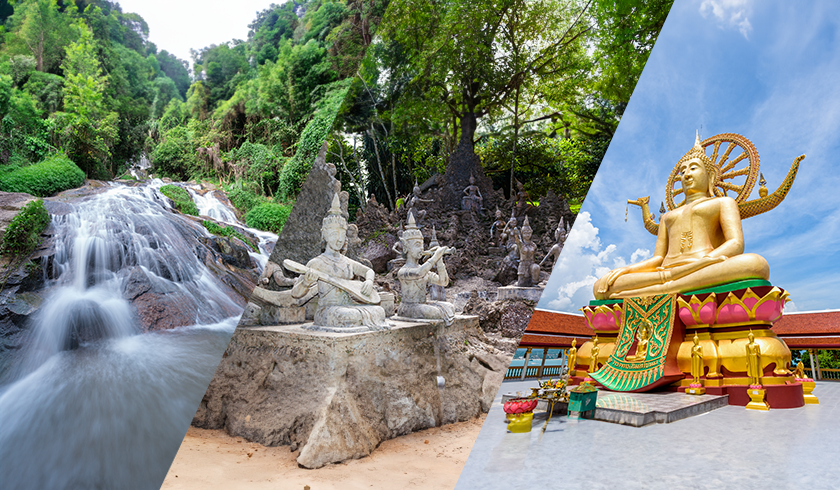 You will come across the island of Koh Tao to the east of the Surat Thani coastline which is a natural habitat of sea turtles – especially hawksbill and green turtles in the Thian Og Bay region. This tour is also ideal for people interested in diving and snorkeling.
3. Experience Scenic Views at Koh Nang Yuan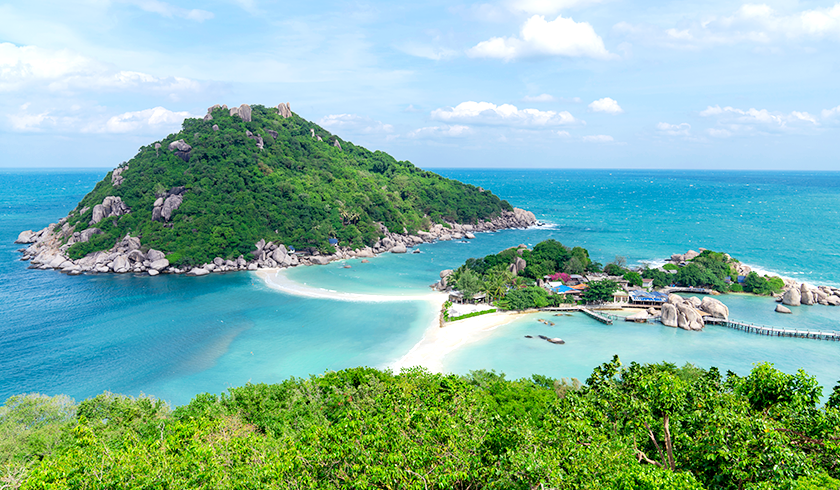 About 15 to 20 minutes by boat from Koh Tao is the tranquil island of Koh Nang Yuan known for its majestic rocks and soothing aquamarine waters. You can also go snorkeling at the reef over there.

The viewpoint that opens up to the island's sprawling natural beauty in its entirety is definitely worth the effort of hiking up to it. After all, we are talking about one of the most wondrously beautiful spots on the planet!
4. Tour the Samui Elephant Sanctuary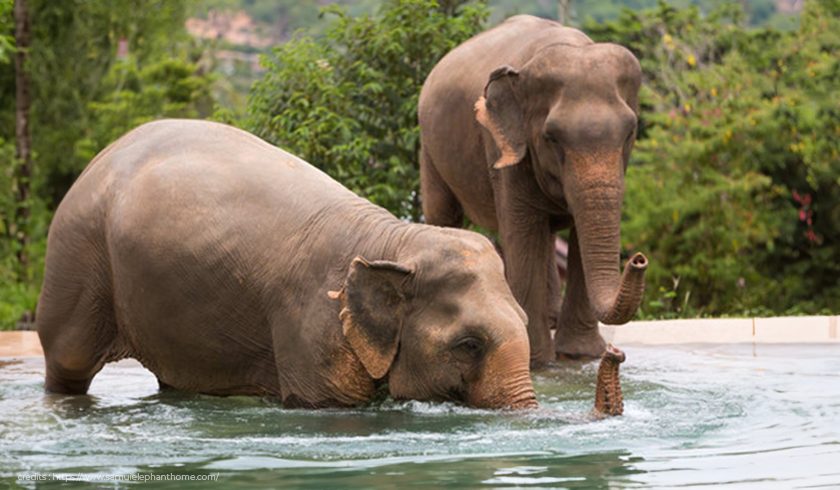 The Samui Elephant Sanctuary is one of the few places in the world which is a sustainable and ethical park. The sanctuary allows visitors to interact with six rescued elephants. The park's owners follow the guidelines laid out by the Save Elephant Foundation and work along the lines of Elephant Nature Park to ensure that none of the elephants are treated unethically.

Experience the joys of walking with these magnificent yet gentle animals, feeding them, and observing them as they go about their daily routine in their natural surroundings.
5. Enjoy the Tranquil Beauty of Koh Taen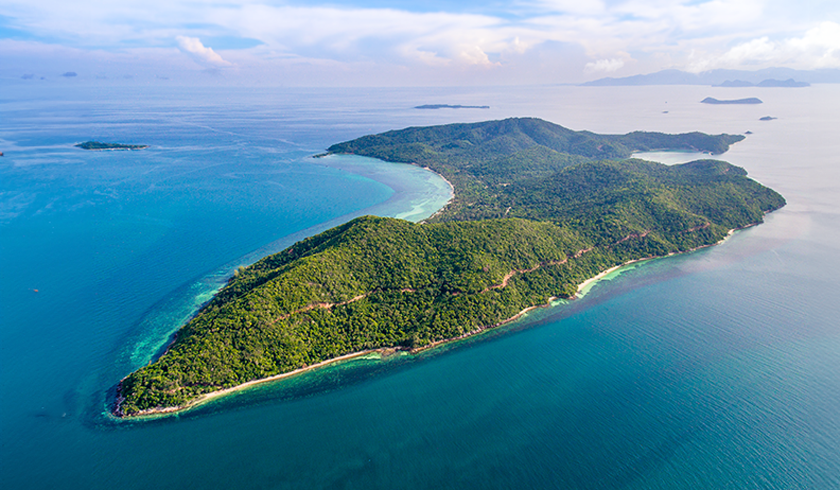 Koh Taen is a part of the Koh Samui archipelago – a little island located to the south of Koh Samui. For nature lovers, this place is a haven. It is relatively less visited than the Koh Tao or Koh Phangan and thus has a pristine feel to it.

Unwind on a deserted beach where you can spend a relaxing and peaceful time on the eastern side. On the southern side, you will find a beautiful coral reef blooming with aquatic fauna like manta rays and sea turtles. This is an excellent place for snorkeling enthusiasts.

In Conclusion

Koh Samui is blessed with many picturesque wonders. The inviting tropic climate, pristine beaches, and crystal clear waters leave many visitors so impressed that they end up making it their permanent homes by investing in some of the best pool villas in Koh Samui.

If you're looking for buying an Pool villa property investment in Koh Samui, our team at SKHAI can help you with great deals on properties located in some of the most scenic areas of this spectacular island. Our properties are situated close to popular attractions and beaches to ensure the best living experience in Koh Samui.