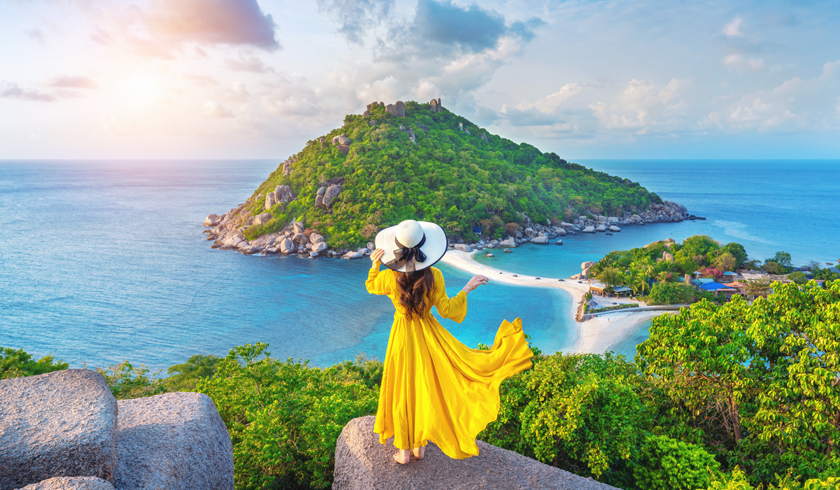 One of the largest islands in the Gulf of Thailand, Koh Samui is the perfect destination for a wonderful holiday with picturesque seashores fringed with jungles, a host of beach activities like diving, snorkeling, swimming, and culturally rich monuments. This wondrous island leaves its visitors so enamored that many of them end up making a pool villa property investment in Koh Samui to make the most of it.Koh Samui is equipped with an airport that sees a lot of tourists arriving from Bangkok or abroad landing here. The things to do in Koh Samui are varied and interesting, ranging from splendid natural spots to man-made attractions. Here are the top-5 of the best of Koh Samui.
The Big Buddha Temple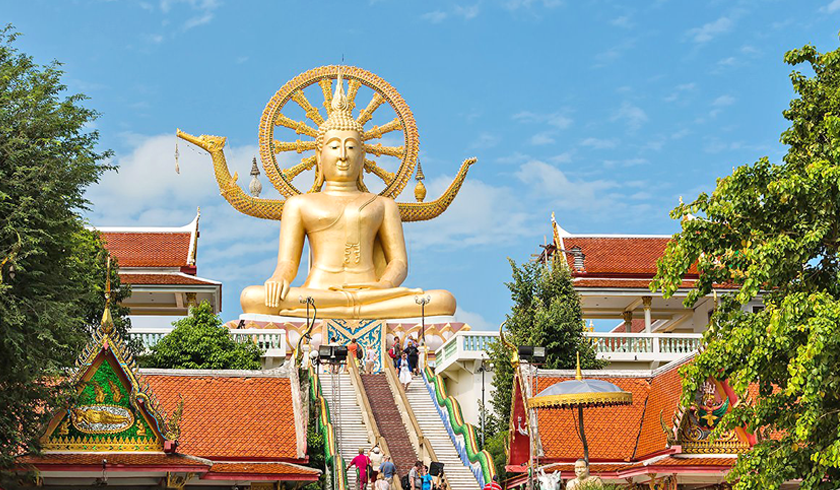 The most popular landmark in Koh Samui is the Big Buddha Temple. You're bound to catch a glimpse of it from the flight itself when you're about to land. 

Sitting on a small hill the Big Buddha Temple is surrounded by scenic views. Locally known as Wat Phra Yai, the golden 12-meter-tall seated Buddha statue was built in 1972. Sitting in the Mara position, this Buddha statue made of gold shows a time when Buddha rejected all temptations that were forced on him.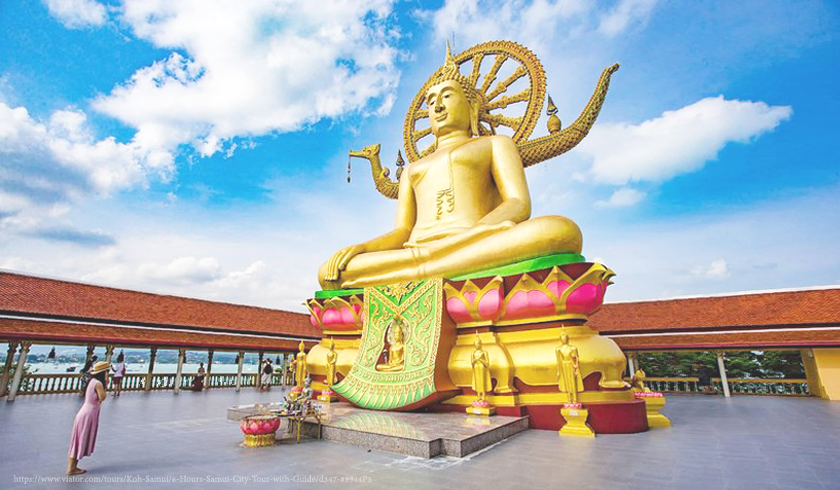 At night the Big Buddha looks exotic washed in a golden glow of spotlights. It's best to visit the Big Buddha before sunrise or sunset.
Na Muang Waterfall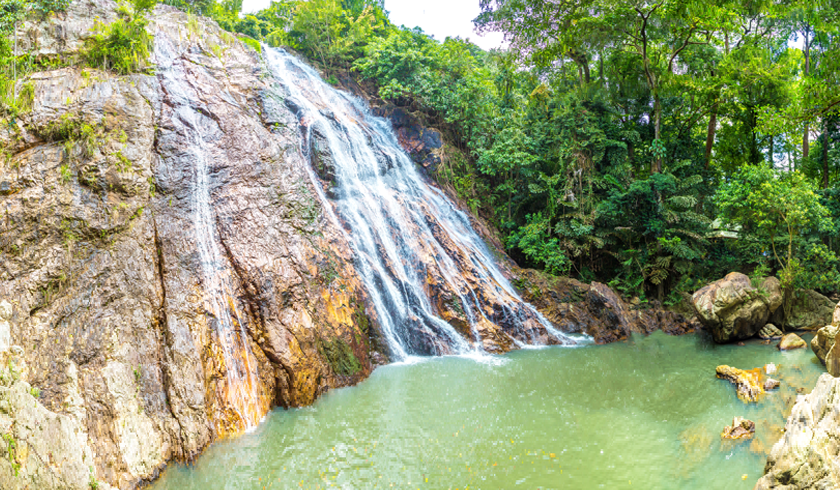 Namtok Na Muang is also known as the 'Purple Waterfalls,' due to the striking purple-hued rocks that the twin cascading waterfalls plunge on. Although Koh Samui has other waterfalls, the Na Muang waterfall is considered to be the most scenic of all. It is best to visit them in the wetter months of September to November when the waterfalls are gushing in their full glory.

Out of the two waterfalls, the first one can be easily reached while reaching the second one is a bit challenging due to the slippery trail. A good pair of shoes with a strong grip is a must while you set out for this waterfall.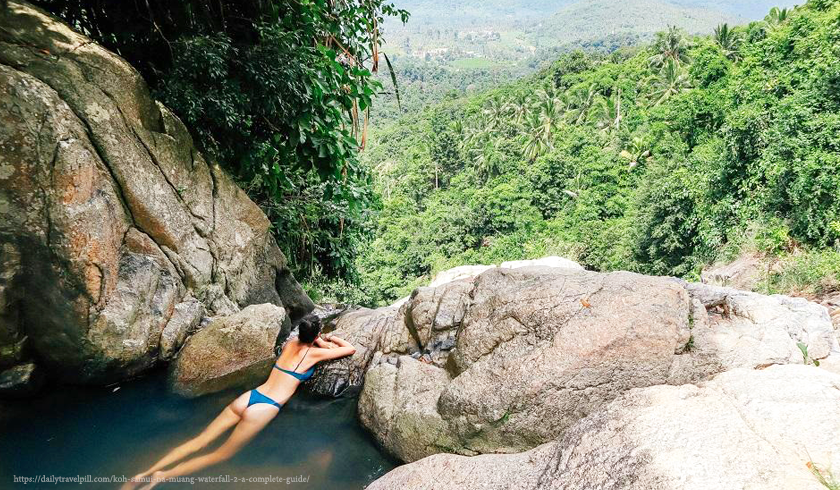 You can spend an entire day at the falls hiking, swimming, picnicking, or simply exploring nature. The cool refreshing falls serve as a beautiful alternative to the beach to beat the tropical heat.
Ang Thong Marine Park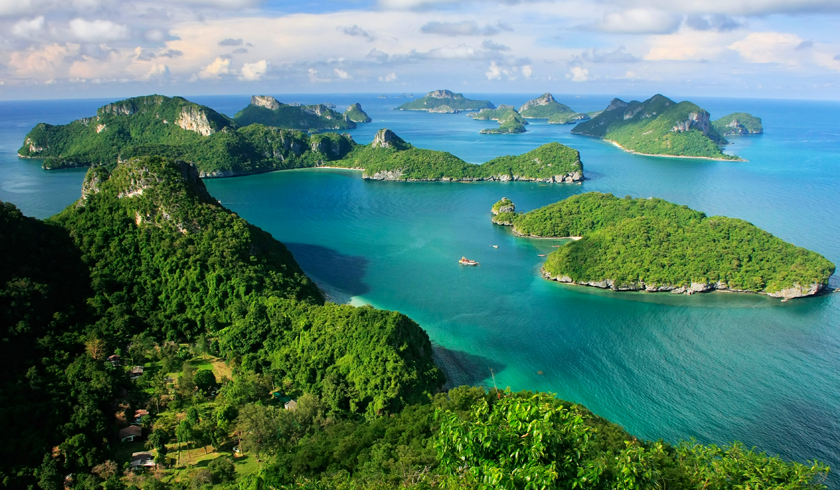 A group of 42 lush green islands scattered across sapphire blue waters makes the Ang Thong Marine Park. Bestowed with verdant green lagoons, hidden coves, and white sand beaches, these islands are the epitome of ravishing nature at their best.

A flight of steep stairways leads to the jewel of this attraction, the Emerald lake viewpoint on Koh Mae which is the mother island. The view of the dazzling lake flanked by limestone cliffs on one die and a snapshot of all the islands on the other side is well worth the effort.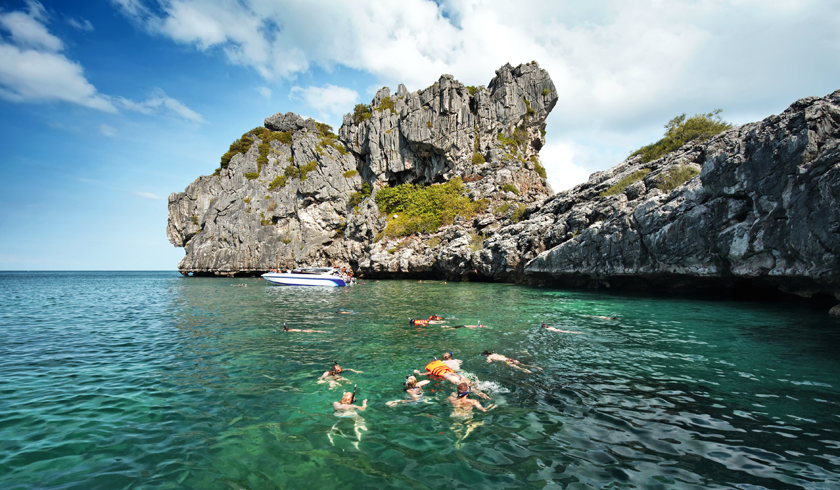 This is a protected area of close to 100 sq. km of land and sea comprising rich biodiversity. The main activities to enjoy at Ang Thong are snorkeling, hiking, sea kayaking, diving, or simply relaxing.
The Secret Buddha Garden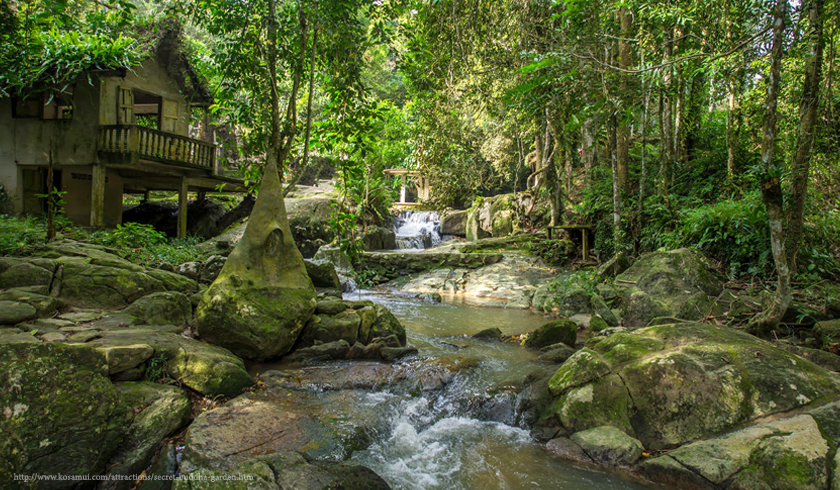 The Secret Buddha Garden sits on top of Pom Mountain, one of the highest hills in Koh Samui. Although getting there involves a difficult climb, this unusual sculpture park is definitely worth a visit.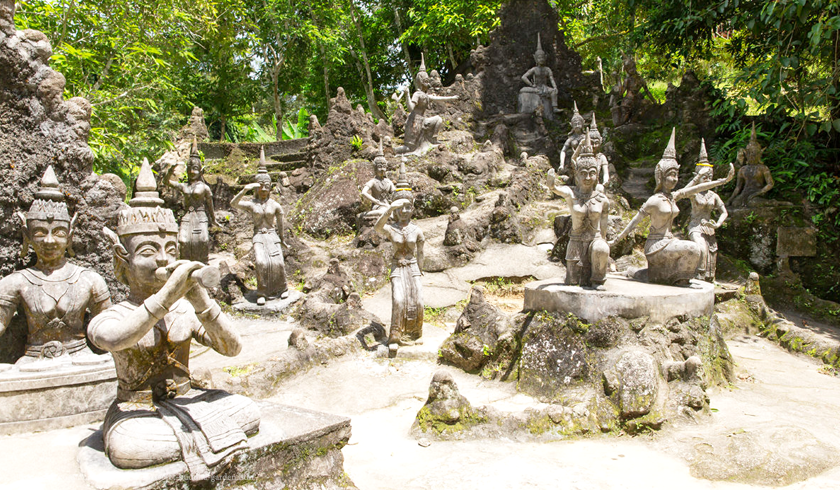 Sprinkled with statues of Buddha in various poses, and also of his parents, grandparents, and of him as a child as well, this garden also features several sculptures of animals, deities, angels, and musicians alongside fountains and enclaves. At a short distance rests the tomb of Nim on a staircase path surrounded by a beautiful flowering garden.

Due to its lush greenery and a spectacular view from the top, the Secret Buddha Garden is also called the Magic Garden, and aptly so.
Hin Ta and Hin Yai rocks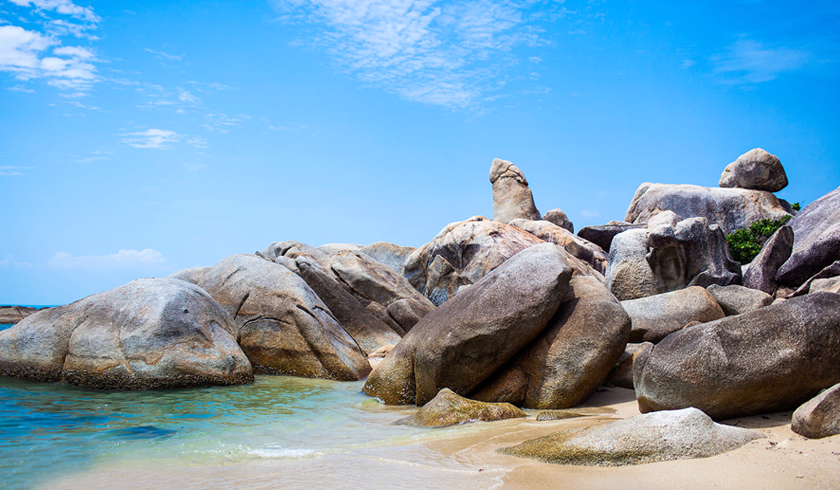 The Hin Ta and Hin Yai are Grandfather and Grandmother rocks that resemble the male and female genitalia, evoking a constant source of amusement and wonder from both locals and visitors. 

Set between Lamai and Hua Thanon, on a rocky coastline, this unusual and titillating sight has given rise to a legend explaining how the rocks came into being. As per the legend, an old couple by the name of Ta Kang and Yai Riam decided that it was time for their son to wed and set off together in a boat from Nakhon Si Thammarat to arrange a marriage with a girl who belonged from Prachuap Khiri Khan province. But during the travel, they encountered a storm that wrecked them. Their bodies are said to have washed up on the coast and transformed into the male and female genitalia-shaped rocks that remained embodied as their loving intention for their son.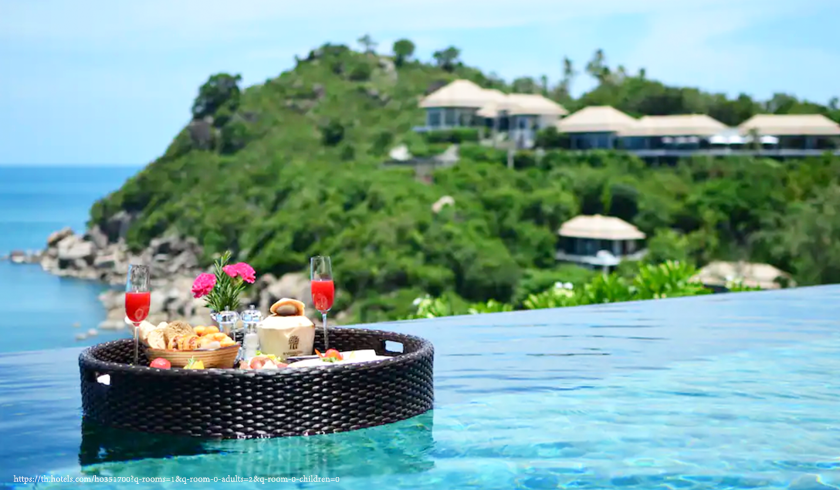 Final Thoughts

The presence of a variety of luxury beach resorts, villas, and Michelin-starred restaurants in Koh Samui makes for an interesting getaway. You are in for a pleasant surprise when you realize the number of incredible attractions the island has to offer. There practically is something for everyone on this wondrous island.

Property investment in Koh Samui can add great value to your investment portfolio. If you wish to explore exciting deals on Koh Samui pool villa real estate contact our team to get the best deals at the most outstanding locations. All of SKHAI's best pool villas in Koh Samui are located in prime areas with lots of popular attractions and entertainment options within reach.