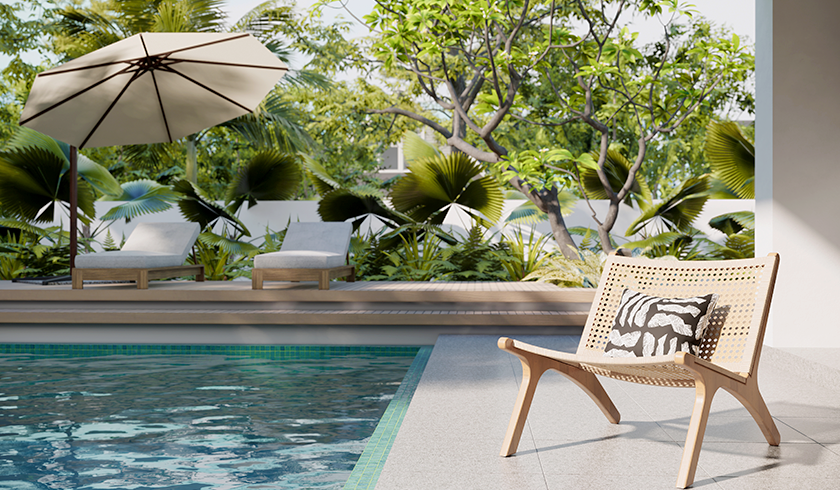 Phuket enjoys the reputation of a global resort destination that offers a range of luxury condos, apartments, houses, and villas for sale. A villa purchased in Phuket can easily be compared to the ones in other popular beach destinations such as the Caribbean and Mediterranean, which are way more expensive than the attractive prices that Phuket offers. A villa in Phuket costs about a fraction of the price that one would usually pay at these other tourist destinations across the world.
Phuket Property Market
Catering to the needs of the ever-growing tourism on the island, the Phuket villa market has expanded phenomenally. World-class amenities, leisure facilities, and an international airport offering great accessibility have further supported the island's infrastructure. International investors are choosing to invest in Phuket villas due to the blend of modern luxury and laidback tropical lifestyle that they offer.

The average listing price for houses in Phuket is ฿ 38,222,280, which is about US$ 1170000. However, depending on the location, amenities, and features of the property, luxury villas can cost anywhere between USD 1-4 million with some ultra-luxurious properties going to the 10-20 million range.

A villa is a commonly used term to refer to properties with land, usually a one or two-story house built on private land. The majority of villas for sale in Phuket are located within a resort or a gated development, with very few standalone villas.

The beachside or beachfront villas in Phuket can be divided broadly as below:
Prime Location Villas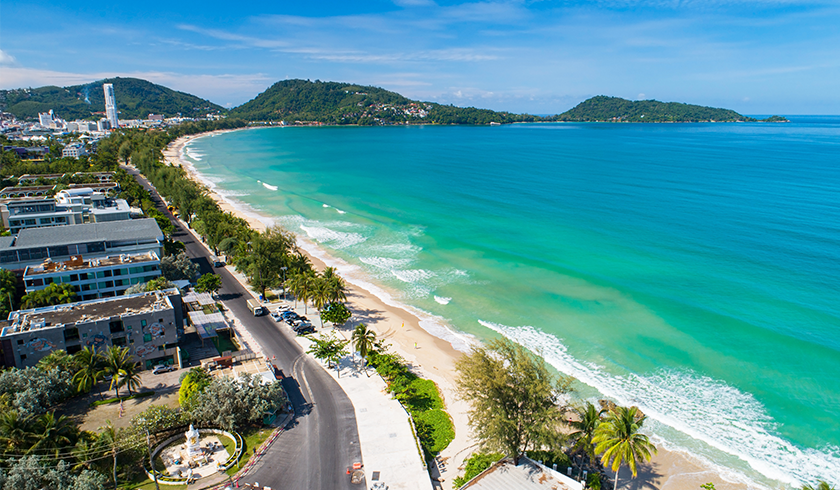 These are luxury villas located in beachfront locations with panoramic sea views, nestled on lush tropical hillsides, usually starting from USD 3 million for a 4-bedroom property with attractive features such as a private pool, large indoor and outdoor spaces, and a host of premium facilities provided along with.
Luxury Villas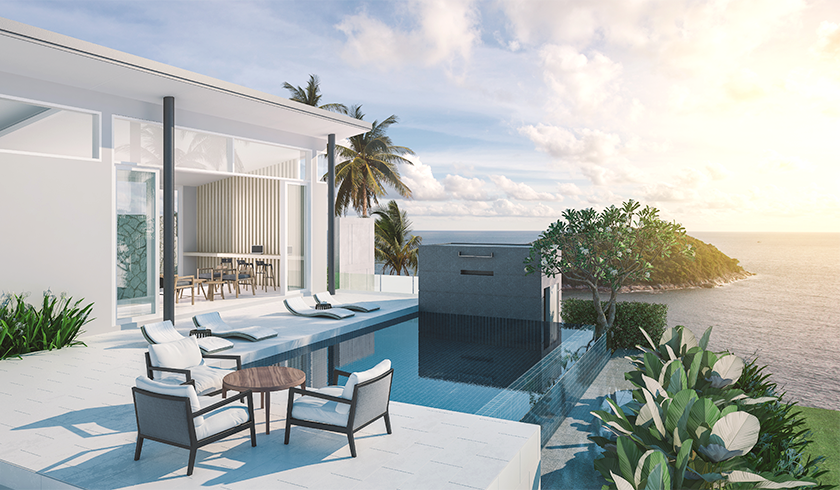 Starting at a price of USD 1 million, these villas are located in less populated areas such as hillsides, or in close proximity to the beach with great sea views, offering plenty of privacy. These villas are equipped with a private pool and plenty of other state-of-art facilities and amenities. With large gardens, a sundeck, an infinity pool, and an outdoor dining sala they reflect the highest standards of quality and comfort.
Branded Hotel Villas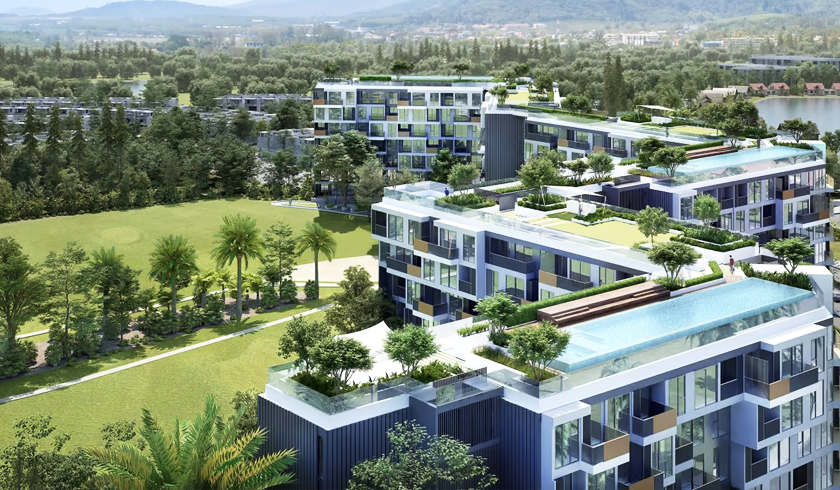 Operated by four and five-star branded hotel operators, Phuket has a great number of branded hotel villas that offer the premium services and facilities of five-star management. These properties are valued at about USD 750,000 for a four-star brand and from USD 2 million for a five-star branded villa.

Besides the beachfront and seaside villas, there are a number of developments that offer townhouses in the heart of the city without a sea view, usually at prices starting from USD 500,000. However, the villas with fantastic locations in close proximity to the sea and hillsides are obviously favored moreover these houses for their splendid location, luxurious features, and attractive prices.
Property Investment in Phuket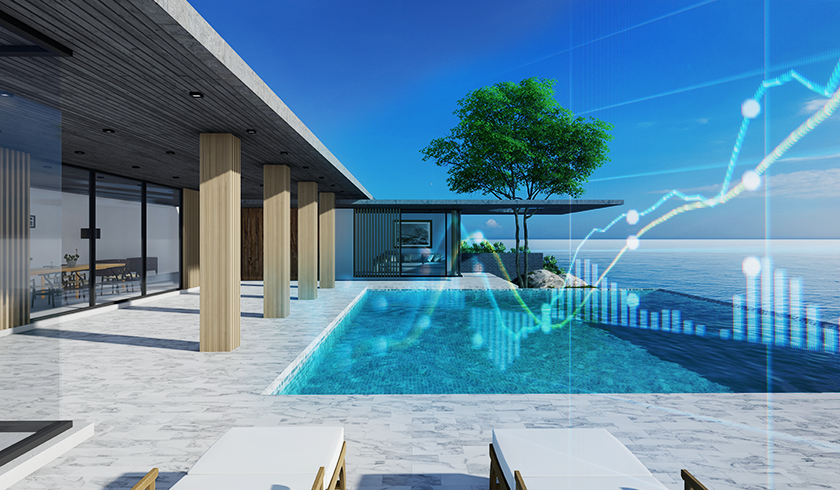 Phuket now has over 3000 villa owners. Most of these owners discovered Phuket as a tourist and after enjoying its pristine beaches, unmatched hospitality, inviting tropical climate, world-class amenities, they finally chose to invest in its property market to buy a second home or a retirement home.

Most investors have benefited with an average capital appreciation of 20% to 50% per annum on their properties at prime beachfront or sea view locations. While some Phuket properties have seen their asset value escalate by as much as 100% between the launch and completion period.

All these villas are extremely easy to rent in the high season, fetching a great return on investment. Many quality developments even offer rental programs with guaranteed income for investors.
Prices of Phuket Vs Other Popular International Beach Destinations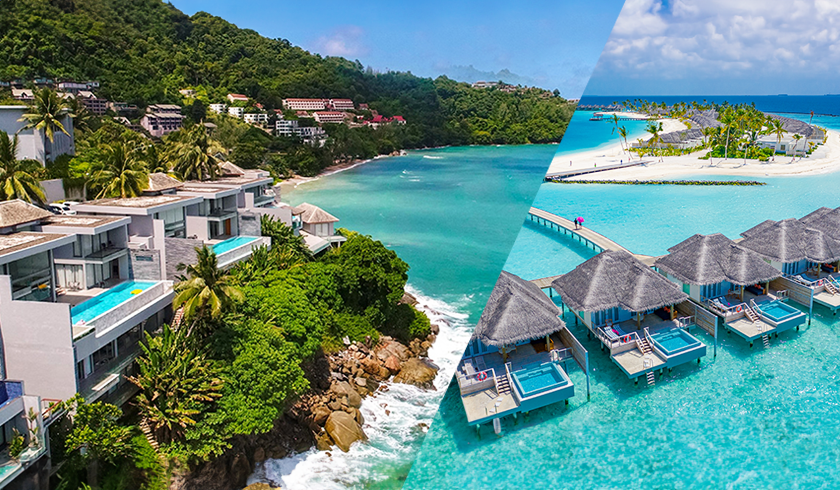 A luxurious 3-bedroom villa with premium features such as a private pool with spectacular sea views in Phuket starts at as low as 1 million USD which is much lesser than a similar villa in some of the popular beach destinations across the world. Let's have a look at the price difference:

Phuket: Starting at USD 1 Million
Maldives: Starting at USD 4 Million
Seychelles: Starting at USD 5 Million
Palm Beach, Florida: Starting at USD 7 Million
Hawaii, USA: Starting at USD 12 Million
In Conclusion
Looking at the above price differences it is easy to conclude why in comparison to other popular international beach destinations, Phuket attracts so many investors for real estate investment on this glorious island from across the world. An exotic villa with sensational sea views, exclusive features such as a private pool, expansive and elegant interiors, in a location that offers world-class infrastructure at such an attractive price is undoubtedly a lucrative investment.

If you are interested in property investment in Phuket, connect with our team at SKHAI to avail the best deals at the most spectacular locations on the island.