Phuket is sprinkled with a variety of interesting cafés, especially around Phuket Town. The island has become a trendy tourist attraction filled with great places to click some fun pictures as well as relax in the unique ambiance that each of these cafés offers. The diverse and upbeat lifestyle of the island is so inviting that many expats have ended up buying affordable pool villas in Phuket to make the most of it.

The old vintage look made from quirky faux-old decoration remains popular across most of the cafés in Phuket. Elsewhere these cafés might probably be known as bars, even though most of the cafés mentioned below are actually bars although they also serve baked goodies and meals. The versatility of the cafés in Phuket makes them really interesting to explore while visiting Phuket Town.

Here are the 5 best cafés that we would like to recommend:
1. Bookhemian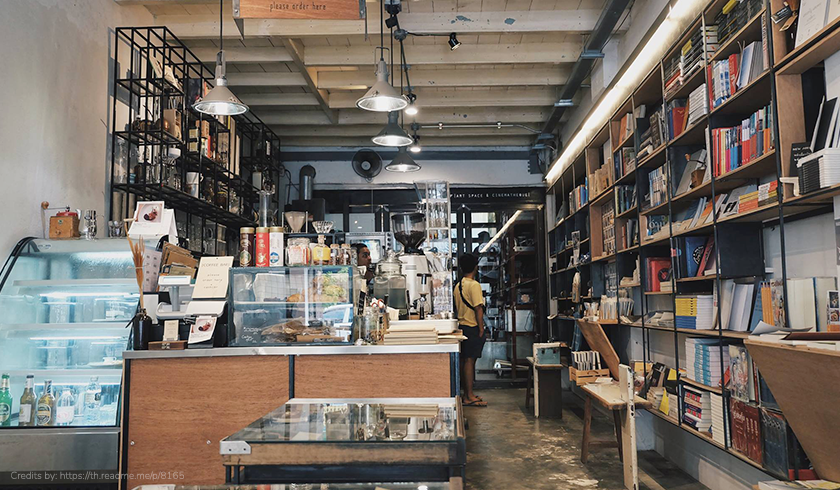 Bookhemian, as the name suggests is a café cum bookstore. From an art house, it has evolved into a bookstore, which means you can browse second-hand books and independent artworks while sipping on your latte. Stacks of books covering a wide variety of topics, from Thai novels to art magazines, line the walls of this lovely little café. Spend a relaxing afternoon browsing through their collection over a cuppa and mull over purchasing books that you could take home as an interesting souvenir.

An artwork drawn by the staff features on their menu. The menu offers a great selection of gourmet coffee and baked goods. Grab a quiche or a croissant with a Picollo Latte. Indulge in one of their decent collections of pastries.

The café interior is warm and inviting with soft lights washing over a split-level open design. The lower floor is stocked with second hand books and local arts. There's also a shop selling new books at the front. And that's not all. The second level has a mini cinema where films are occasionally screened. With so much to do there, this interesting café is perfect to spend a rainy day lost in an interesting book with a beverage.
2. B Cat Café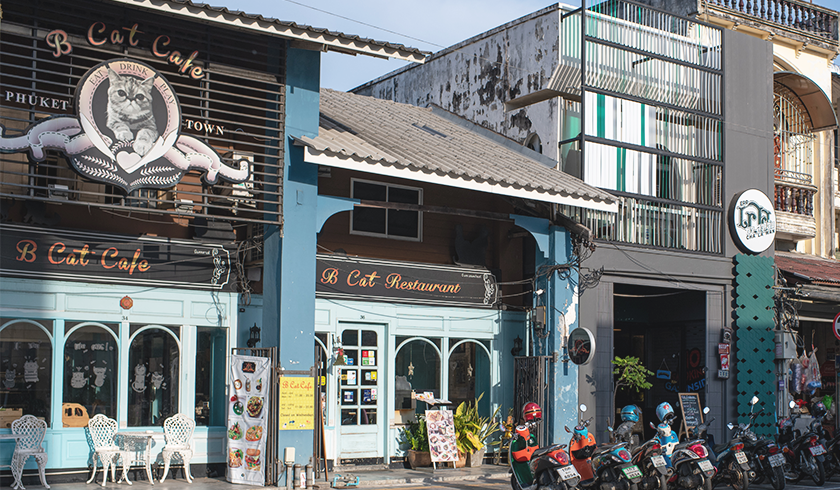 If you're a cat-lover, be prepared to be delighted with this animal-themed café providing a good cup of coffee to its amused patrons. Often cats are seen lounging on the soft vinyl seats and banquettes if they are not mingling with the guests, hopping up and down the laps of the visitors. A hot cuppa and a sinful pastry in the company of an adorable feline friend sounds like a perfect date, right?
3. Va Va Voom at Rider Café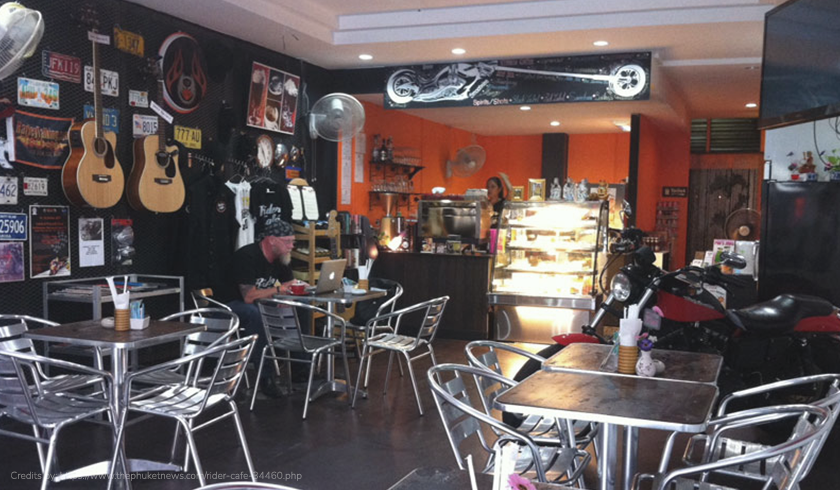 Popular amongst biking enthusiasts, the Rider Café is the perfect haunt for people who are passionate about biking. Situated at just the right location for biking enthusiasts to catch up over an interesting chat about their love for bikes, the café has many affiliations to bike rental companies and clubs where tourists can rent a Harley Davidson for about 113 USD or 4000 THB a day. Don't forget to fuel yourself with their delicious food. Their juicy Rider Bacon Burger is highly recommended. Wash it down with a chilled beer as you make plans for your next exciting bike ride!
4. Endless Summer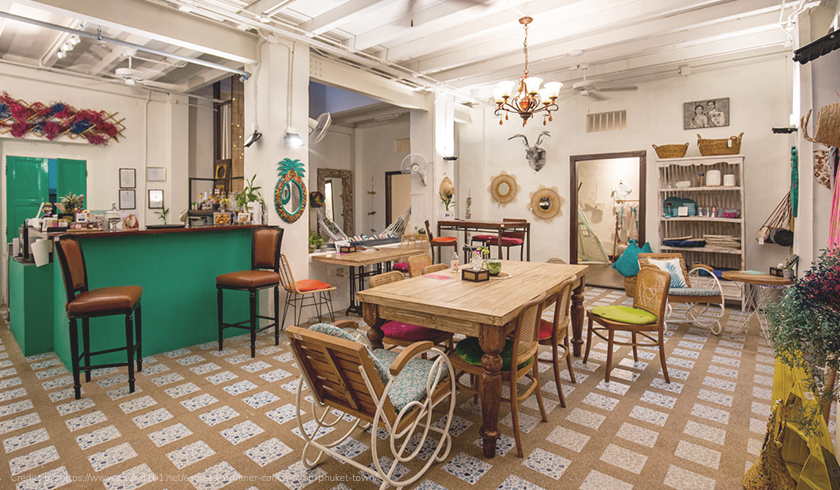 Endless Summer, a beautiful heritage coffee shop in Phuket is also a fashion boutique. Housed in a grand heritage house in the heart of Phuket town, this fascinating mansion makes people stop for a great photo opportunity. For a long time, this iconic house was a kindergarten before being fabulously renovated and painted green to stand splendidly with the other heritage buildings around it.

From the outside the coffee shop looks relatively small, but as you enter you realize how huge it really is. The friendly and inviting staff let you glance around and click some pictures while you order or buy something. They have a large number of items on display. From a wonderful collection of swimsuits from Italy, Bali, and Thailand, light and colorful dresses, to some great evening wear, there are lots to browse and pick from. They also have a room for men's fashion and a delightful room dedicated to babies' and kids' clothing.

The bright and exquisitely decorated coffee shop is located at the back of the shop. The original feel of the heritage house has been maintained along with the splendid décor to give it a tasteful ambiance. A selection of homemade dishes such as sumptuous quiches, salads, waffles, and many more items can be enjoyed here.
5. The Old Phuket Coffee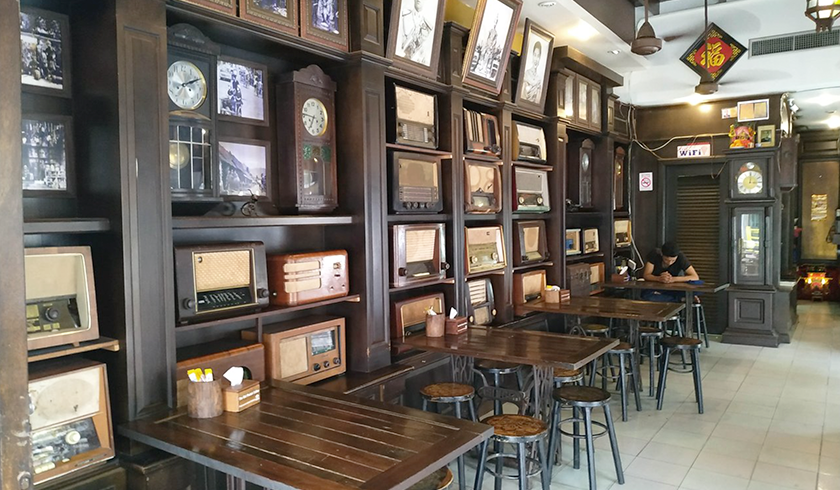 One of the most popular bars in the old part of Phuket Town, The Old Phuket Coffee, was an instant success mainly because of its strategic location at an intersection and the authentic old Phuket style décor that lends a distinct charm to the interiors. It features dark old wood with vintage radios and miniature Thai houses as wall hangings. Old bicycles stand in the front of the windows outside lending an interesting touch. Vintage photographs and old motorbikes from the past pique the interest of many tourists.

It is busy more so on a Sunday afternoon as it stands at the beginning of the Phuket Sunday Walking Street Market. A decent choice of Thai food like Pad Thai and Fried Rice is served here, not necessarily authentic Phuket food but nonetheless quite a hearty spread.
In Conclusion
Whether it is a cozy corner you're looking for to grab a cup of coffee or a place to enjoy a long leisurely time, Phuket offers many options to enjoy.

Sprinkled with numerous cafes, eateries, restaurants, and bars, the island's vibrant hospitality and nightlife makes it a great place for buying luxury pool villas in Phuket. All of SKHAI properties are surrounded by a vast range of interesting social hubs and dining experiences. Contact our team to know about attractive deals on Phuket pool villa investment opportunities situated at some of the most stunning and happening locations on the island.